Three performing artists from China visited Houston over the weekend to raise funds for the AQZ Charity Foundation (AQZ), an organization dedicated to help economically disadvantaged Chinese children with congenial heart disease.
Yang Zhigang, Brenda Wang and Dong Fei came from the Chinese mainland and Taiwan.
AQZ, established last year, is a branch of the Beijing Qu Zheng Charity Foundation (BQZ), founded by Dr Qu Zheng, vice-president of China Meitan General Hospital and former visiting professor at the Texas Heart Institute.
At a press conference on July 25, Yang, an actor, said he was the first person who volunteered to help the cause a few years ago.
"When Dr Qu talked about his desire to help children in need and the lack of funds, I became the first donor," he said. "After that, many more people joined, and BQZ was established in 2012."
Yang said he made a promise that he would help one child every time he finishes a TV show. So far, he has completed seven shows and helped seven children. BQZ has helped more than 130 Chinese children.
Wang and Dong, a kunqu opera singer, said they joined BQZ after it was established. and they hope to get more people involved in the US.
"I know most benefited children are from remote areas in China, including children from my hometown in Shaanxi province," Dong said.
More than 300 people attended the AQZ charity gala featuring performances by the three actors on Sunday in Houston.
Dr Feng Jianwei, co-founder of AQZ and chairman of the heart and vascular institute at Memorial Hermann Hospital in Houston, said $60,000 has been raised before the gala.
Feng said that the funds raised in Houston will be able to help 100 children with congenital heart disease to get a correctional procedure.
Chinese Consul General Li Qiangmin encouraged everyone present to give love to more people in need.
mayzhou@chinadailyusa.com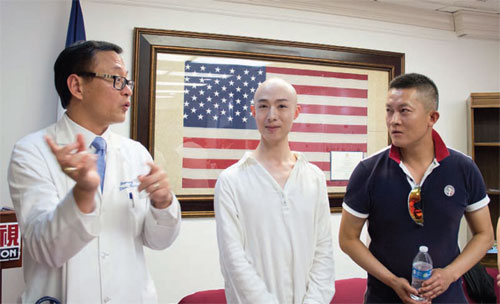 From left: Dr Feng Jianwei talks to performing artists Dong Fei and Yang Zhigang about helping children in need on July 25 in Houston. May Zhou / China Daily