Top Hebei official is suspected of graft
Zhou Benshun, the top official of Hebei province, has been placed under investigation on suspicion of corruption charges, the latest major incident in the country's sweeping anti-graft campaign.
Zhou, 62, the Party chief of the province, is suspected of "seriously violating Party discipline and laws", the Central Commission for Discipline Inspection, the top anti-corruption authority, said on Friday.
No details were available from the commission.
Zhou started his career in Hunan province as a geology teacher in 1975 after he graduated from a university in Changchun, Jilin province, with a major in petroleum exploration.
He spent most of his career climbing the ladder of officialdom in Hunan province and was the police chief in the province from 2000 to 2003.
He worked in the Party's Central Political and Legal Affairs Commission from 2003 to 2013 in a number of positions until he was appointed the Party chief in Hebei province, the top steel-producing area in China, in 2013.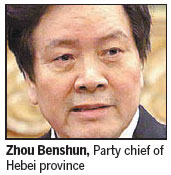 The top anti-graft body has intensified efforts to clamp down on high-ranking "tigers" and low-level "flies" since November 2012 when the country's top leadership was elected.
Last month, Zhou Yongkang, a former security chief of China and member of the Standing Committee of the Political Bureau of the CPC Central Committee, was sentenced to life in prison for accepting bribes, abusing power and deliberately leaking State secrets.
Zhou Benshun worked under Zhou Yongkang for a couple of years when he was with the Central Political and Legal Affairs Commission.
During the first half of this year, 15 officials at ministerial level or above have been investigated on corruption charges. Another senior official in Hebei province, Jing Chunhua, secretary-general of the Party committee in the province, was among them.
zhang_yi@chinadaily.com.cn