Simpler UK visa rules urged for Chinese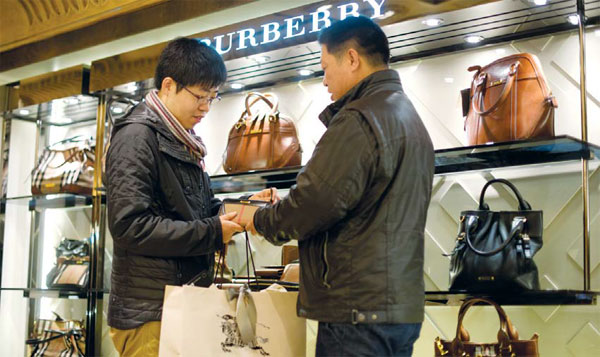 Chinese tourists shop at Harrods department store in London. The UK government should speed up plans to make it easier for Chinese tourists to get visas in order to boost spending, analysts say. Ben Stansall / AFP
France and Italy ahead in terms of tourist spending; cut in value added tax suggested
The UK government should speed up plans to make it easier for Chinese tourists to get visas in order to boost spending, says Gordon Clarke, head of UK and Ireland commercial operations at Global Blue, a Swiss-based tourism shopping tax refund company.
Speaking at a forum in London on July 9, Clarke saids total tax-free spending in the UK dropped for the first time by in 2014, falling 3 percent.
Although the economic slowdown in China may have had some effect, Global Blue's data show there was less of an impact in other European countries.
France registered growth of 8 percent in tax-free spending in the same period, while the figure for Italy remained stable.
The UK needs to overcome barriers that hinder UK tourism and the opportunities brought by tourists, says Clarke. China, whose consumption accounted for 25 percent of all sales of tax-free products in the UK last year, and 23 percent for the first half of this year, remains the key factor.
Delay in implementing visa policy reform is seen as a top cause preventing Chinese tourists from visiting the UK. "Many (Chinese tourists) want to come to London, but go to Schengen countries because that's one visa," says Clarke. "Paris is now their No 1 shopping destination."
Travelers visiting any of the 26 members of the European Union's Schengen Group need only apply for one visa to give them access to all countries within the group. But the UK is not a signatory to the Schengen agreement, so visitors have to apply for a separate visa.
The UK launched a pilot program under which Chinese travelers can apply for both a Schengen and UK visa at the same time when applying to visit Belgium.
The pilot was launched on July 1, but Belgium issues only 16,000 visitor visas in China a year, compared with 390,000 UK visas for Chinese visitors in 2014.
The UK China Visa Alliance, a non-profit organization that wants simplified UK visa procedures for Chinese tourists, estimates that the UK loses up to 1.2 billion pounds ($1.8 billion; 1.7 billion euros) a year when Chinese tourists visit European countries without booking a tour to the UK.
Sue O'Brien, CEO of Norman Broadbent Plc, an executive search company, is also a director of Walpole, an alliance of 170 UK luxury brands. She says research by Walpole found more people increasingly list shopping in department stores as the key reason for visiting London.
High-end sales still account for a considerable percentage of Chinese consumption in the UK, Global Blue says. Data show only 5 percent of all Chinese transactions in the UK are over 2,500 pounds, yet when combined exceed half of the total.
Even though the growth of Chinese spending on luxury goods in the UK has slowed, Walpole research found that more of the Chinese middle class shop in Europe. Chinese tourists' spending in the UK grew by 122 percent last year, against 132 percent the previous year.
Global Blue also wants the government to agree a 5 percent value-added-tax rate for tourists in order to attract more tourists, which the British Hospitality Association says would increase the UK Treasury's income by 529 million pounds over the first five years and 4.4 billion pounds over the first decade. "Tourism is the UK's sixth-largest export-earner and the only export subject to VAT," says Clarke. "A tourism VAT cut will stimulate growth in tourism and the wider UK economy significantly."
Tourists, along with UK residents, now pay 20 percent VAT on goods and services.
Global Blue's other proposals include opening new air routes from London to more Chinese cities.
Gavin Hayes, director of Let Britain Fly, a campaign group that wants to expand airport capacity in London and the southeast to support growth, says a lack of direct flights between the UK and many parts of China is one of the main obstacles hampering tourist.
"Paris has 50 percent more direct flights to China. As a result, Chinese customers spent eight times more in Paris than in London last year," he says.
zhangzhouxiang@chinadaily.com.cn