Army says Indian gunfire killed four Kashmir civilians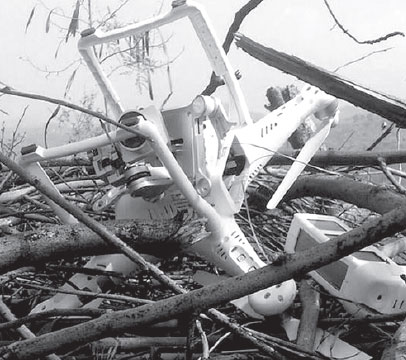 A photograph released by Pakistan's Inter Services Public Relations on Wednesday purportedly shows the wreckage of a small lightweight model drone of a type widely available for commercial purchase, lying on branches of wood near Bhimber, a district of Pakistani-controlled Kashmir. Ispr Via AFP
Islamabad lodges protest with New Delhi after separate 'air space violation'
Pakistan's army said on Thursday that Indian troops had killed at least four civilians in the latest cease fire violation in the disputed Kashmir region.
"Three civilians ... embraced shahadat (martyrdom) due to Indian unprovoked firing on Working Boundary near Sialkot," an army statement said. Five civilians were also injured, the statement from the army's Inter-Services Public Relations said.
It also stated that 18-year-old Zareena Bibi was killed on the Line of Control in Neza Pir sector near Rawlakot, which divides the two countries in the region.
Pakistan and India declared a cease-fire in 2003, although both sides occasionally exchange fire.
The incident comes just days after Prime Minister Nawaz Sharif met his Indian counterpart, Narendra Modi, in Russia after months with no high-level contact between the countries. Communications broke down after an exchange of harsh statements and gunfire from both sides on the Line of Control.
In a joint statement issued after the talks, the two countries had decided to arrange meetings of senior military officials to lower tensions along the Line of Control.
In another development, Pakistan on Thursday summoned the Indian High Commissioner and lodged a protest over an "air space violation" after an Indian spy aircraft entered Pakistan's air space.
The Pakistan army said that an Indian spy drone was brought down on Wednesday.
"None of our unmanned aerial vehicles has been shot down by them," said Colonel S.D. Goswami, an Indian army spokesman.
Local Pakistani TV showed villagers mourning for their loved ones, with cameras showing the pockmarked walls of their homes, which had apparently been shelled.
Xinhua - AP