Two provinces brace for typhoon's rain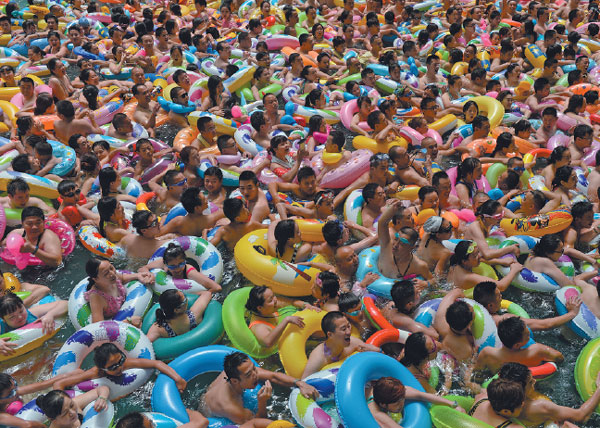 Crowds swarm the Chinese "Dead Sea", so called because of the high salt level in the water, an indoor pool in Suining, Sichuan province, on Saturday. More than 8,000 people visited the 30,000-square-meter pool as temperatures hit 33 C. Zhang Furong / for China Daily
Typhoon Chan-hom, which hit eastern coastal China on Saturday, is set to bring heavy rainstorms to Shandong and Liaoning provinces, but forecasters said the huge storm is expected to weaken as it moves northeast.
On Sunday, the National Meteorological Center downgraded the alert for Chan-hom from red to orange because the typhoon's strength will gradually ebb while it moves to coastal regions in Shandong and Liaoning.
Still, torrential rains and strong winds will be expected to hit Shandong, Liaoning, Jilin and Heilongjiang provinces around the Yellow Sea on Monday, and heavy gales are forecast in the Yellow Sea, prompting the NMC to issue a blue rainstorm alert.
China has a four-tier color-coded weather warning system, with red representing the most severe weather, followed by orange, yellow and blue.
Chan-hom was at the northern area of the East China Sea early on Sunday morning, packing winds of up to 126 km/h, the NMC said.
With the typhoon blasting coastal areas, inland areas in northern, central and southern provinces plus basins in Sichuan province will face intense summer heat, with the highest temperatures expected to hit 40 C, the NMC said.
Chan-hom, China's ninth typhoon this year, made landfall on Saturday afternoon in Zhejiang province, forcing more than 865,000 people in the province to evacuate and affecting 81,460 hectares of farmland, according to the provincial flood control and drought prevention headquarters.
The NMC issued a red alert on Friday morning after Chan-hom's center was spotted offshore, 395 km southeast of Zhejiang. A total 28,764 ships had been recalled to port to take shelter from the storm by Friday evening.
Heavy rainstorms also seriously disrupted traffic in Shanghai while Chan-hom blasted through. About 1,200 flights were canceled on Friday and Saturday. All bullet trains from Shanghai to the coastal cities of Fuzhou and Xiamen, Fujian province, and Shenzhen and Guangzhou, Guangdong province, were suspended.
The NMC said Chan-hom, the second typhoon to hit China in two days, could turn out to be the strongest typhoon to land in Zhejiang since 1949. Currently, Typhoon Saomai, which claimed 483 lives in 2006, is counted as the strongest typhoon to make landfall in Zhejiang since 1949. Saomai had wind speeds of 200 to 220 km/h.
No casualties from Chan-hom have been reported.
Xinhua contributed to the story.
sunxiaochen@chinadaily.com.cn