36 die as ferry sinks, but many are saved
A ferry carrying 189 passengers and crew capsized off the central Philippines in heavy seas on Thursday, killing at least 36 people, but the majority of those on board were rescued, the coast guard and police said.
The MBCA Kim-Nirvana, a motorized outrigger with 173 passengers and 16 crew on board, capsized minutes after leaving the port of Ormoc.
Coast guard spokesman Armand Balilo said 127 people survived, while 26 were still listed as missing.
"Search and rescue operations are ongoing. Initially we learned that it was due to big waves," said Rey Gozon, director of the office of civil defense for the region.
Scores, sometimes hundreds, of people die each year in ferry accidents in the Philippines, an archipelago of 7,100 islands with a notoriously poor record for maritime safety. Overcrowding is common, and many of the vessels are in bad condition.
May Sopa told CNN Philippines that when she hit the water, other panicking passengers pushed her down, before a man holding on to a water container rescued her.
"I told him, 'Please save me'," Sopa said, adding that they bobbed in the water and tried to paddle ashore. Two other women and a boy around 10 years old also latched on to the same water container.
TV pictures showed rubber boats and coast guard vessels bringing survivors ashore, including at least one toddler, with the half-submerged ferry visible offshore.
Balilo said authorities were looking at various possible causes, including human error and bad weather.
Reuters - AP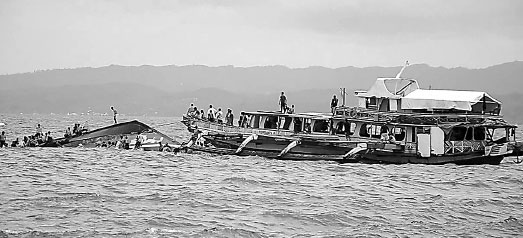 The Philippine coast guard rescues passengers after a ferry capsized in choppy waters on Thursday at Ormoc. Associated Press