Murray managing to beat the heat
It's not necessarily the heat, and it's not necessarily the humidity.
When it comes to playing through high temperatures at Wimbledon, a tournament known more for its rain delays than its sunny disposition, it's about keeping the points short.
"Because the points are much quicker, you don't feel it as much," said Andy Murray, the 2013 Wimbledon champion. "But you play three or four long rallies in a row and you feel it more."
Murray played through it on Tuesday during his 6-4, 7-6 (3), 6-4 opening-round victory over Mikhail Kukushkin of Kazakhstan on Centre Court. He said he was told the on-court temperature reached 41 C.
That is a rare number for London, even in summer.
"It was definitely hot today," said Murray, the first British man to win the Wimbledon title since Fred Perry in 1936. "I mean, I haven't played loads of matches on that court when it has been as warm as that."
Murray was one of three former men's champions to advance to the second round on Day 2 at the All England Club.
Roger Federer, who is looking for a record eighth title, beat Damir Dzumhur of Bosnia 6-1, 6-3, 6-3., while two-time champion Rafael Nadal defeated Thomaz Bellucci of Brazil 6-4, 6-2, 6-4.
All three played under sunny skies, with more hot weather expected in the forecast.
Because of the high temperatures, Wimbledon organizers have outlined how their heat rule works.
The rule, which applies only to women's singles matches, allows players to take a 10-minute break between the second and third sets if the heat stress index reaches 30.1 C.
It certainly seemed to have been that hot on Centre Court on Tuesday afternoon, but the rule does not apply to men's matches.
While Murray managed to advance in straight sets despite the hot conditions, he had a little blip midway through the match.
"I lost my serve a bit in the end of that second set. There was a period where I missed like 10 or 12 first serves in a row and let him back into it there," Murray said.
"Then he played some really good stuff at times and was going for his shots.
"I found it difficult to play aggressive tennis out there. I was glad to get through."
While it looked all too easy for the former champions, it was another story for No 3 Simona Halep, who became the highest seeded player ousted so far, tumbling 5-7, 6-4, 6-3 to 106th-ranked Jana Cepelova of Slovakia.
The Romanian, who also reached the French Open final last year, was treated near the end of the first set after losing a toenail.
Halep, who is not considered a grass-court specialist, hurt her chances with seven double-faults and 34 unforced errors.
"I knew it would be a difficult tournament for me," she said. "But I didn't expect to lose in the first round."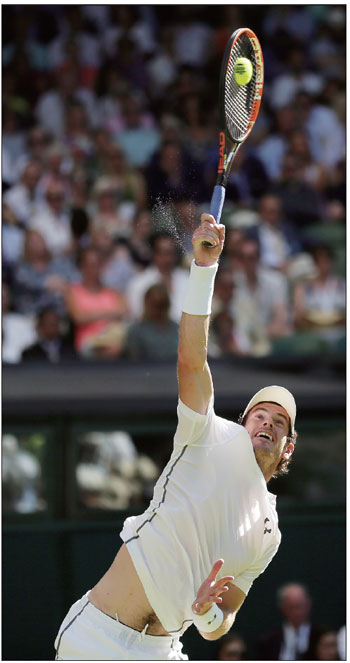 Andy Murray serves to Mikhail Kukushkin during their firstround encounter on Tuesday. Timireland / AP