Tourists recount shooting at resort
Tunisia's postcard destination for tourists is reeling from the terror that blighted the Mediterranean seaside resort of Sousse. A man armed with a Kalashnikov and grenades gunned down tourists on a private beach, and then moved methodically through the grounds of a luxury hotel to the swimming pool, reception area and offices.
At least 38 people were killed and dozens wounded in Friday's noon rampage by a young Tunisian disguised as a tourist.
From accounts of the attack, no one grasped what was happening at first in what became Tunisia's worst terrorist attack. On Saturday, the private beach of the 370-room Imperial Marhaba Hotel was immaculate, with chairs lined up under straw umbrellas - and police tape sealing it off. Only the emptiness and an overturned lounge chair covered with flowers hinted at the horror.
Some people cried as they placed their offerings.
Tony Callaghan from Norfolk, England, was near the pool around midday when he heard what many others thought were fireworks. With his 23 years in the Royal Air Force, Callaghan knew better.
"I knew it was gunfire ... The hotel was being attacked."
Callaghan, 63, suffered a gunshot wound to his leg and his wife, Christine, 62, had her femur shattered. Both were among those being treated at Sahloul Hospital, the largest in Sousse.
He said that 40 people had taken refuge in the hotel's administrative offices, not far from the reception area. They climbed to the first floor, "but then we were trapped". Callaghan said he told people to hide because the gunman was following "and shooting coming up the stairs".
His wife stumbled in the corridor and "was screaming, 'Help me! Help me!"' Callaghan said. Another woman had been shot four times, he said, and "was lying in a pool of blood".
The gunfire appeared endless. For Callaghan, it lasted about 40 minutes. "It was incessant." But no one really counted as they looked to save their lives. Some others suggested it lasted about 20 minutes.
The attacker "took time to go to the beach, to the pool, the reception, the administration, climbing the stairs," said Imen Belfekih, an employee for seven years at the hotel. She was among those hiding in the administration offices, along with a fellow employee who was wounded in the attack.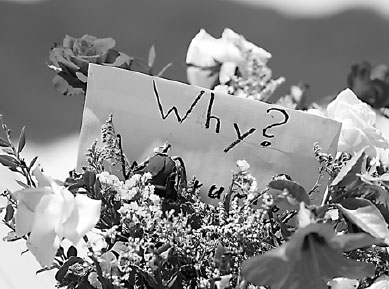 Flowers at the scene of the shooting in Sousse, Tunisia, on Saturday. Darko Vojinovic / Associated Press