Food supplies 'secure' from El Nino impact
No extreme weather, flooding in rice-growing provinces which meant stable summer crop output
China's grain security and import quota will not be affected by the El Nino phenomenon, thanks to its high staple grain inventory and stable summer crop output, experts said on June 23.
El Nino - a warming of the surface temperature in the Pacific Ocean that affects wind patterns - has brought more rain to the south of the country, increasing the chances of floods and small rivers overflowing.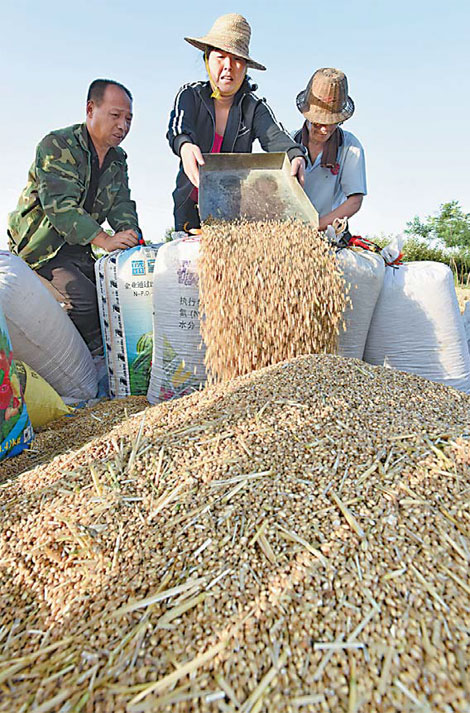 Famers in Xi'an, Shaanxi province, harvest summer grain on June 4. Yuan Jingzhi / For China Daily
The China Meteorological Administration said this month it is expecting a moderate El Nino to affect the country this year, which could cause heavy rain in the south and drought in the north.
Li Guoxiang, deputy director of the Rural Development Institute at the Chinese Academy of Social Sciences in Beijing, said China had completed the harvest of summer crops this month.
The total area of summer-crop farmland, which mainly yields wheat and early season rice, reached 21.67 million hectares this year, up 66,670 hectares from last year, according to the Ministry of Agriculture.
In Shaanxi province, the yield of summer crops could increase by 10 percent over last year thanks to favorable weather conditions and the application of agricultural technology, officials said.
The London-based International Grains Council in May raised its forecast for China's wheat output this year to 127 million metric tons, about 4 percent higher than its previous prediction in April.
"Heavy rainfall in China's southern provinces ... has provided sufficient water for the country's rice production and there has been no evidence showing major rice-producing provinces such as Jiangxi, Anhui and Jiangsu have been affected by extreme weather or large-scale floods," said Li.
In 1998, El Nino caused the nation's worst flooding on the Yangtze in half a century. During that season, major rice-producing provinces such as Jiangxi, Hunan and Hubei lost large portions of their harvests.
The strong rain this year has only resulted in minor flooding in Anhui province, according to the province's water resources department.
El Nino has already caused drought or extremely dry weather in Australia, India, Indonesia, Thailand and the Philippines. The United States Department of Agriculture warned Southeast Asian nations to monitor food prices and raise rice import volumes to secure domestic demand.
"Thanks to China's continued investment in flood prevention infrastructure and water conservation since 1998, as well as sufficient inventory of staple grains including rice and corn, the country is quite capable of ensuring its grain security this year," said Ding Shengjun, a senior researcher at the Academy of the State Administration of Grain.
The United Nations Food and Agriculture Organization in May forecast that China's corn inventory could reach 102 million tons in 2015. The nation holds about 40 percent of global corn stocks.
China introduced floor prices for agricultural products in 2006 to protect farmers from price volatility. The government buys such products as wheat, corn and cotton for state reserves when market prices fall below the floor levels. To boost grain production, the central government allocated 143.4 billion yuan ($23.1 billion) this year to subsidize farmers, seeds and grain storage.
Ding said that the central and local governments should turn their attention next to the autumn crops, mainly rice, and take measures to tackle possible drought or dry weather that might affect corn production in North China's Inner Mongolia autonomous region as well as Liaoning and Hebei provinces.
zhongnan@chinadaily.com.cn