Yoga in tai chi land
Hundreds visit Southwest China to learn the ancient Indian regimen, Xu Lin reports in Chengdu.
As Zubin Zarthoshtimanesh, a yoga guru, demonstrated postures at a high school stadium in Dujiangyan city, Sichuan province, some 200 students sat on colorful mats watching him closely.
It was part of the first India-China international yoga festival in the provincial capital, Chengdu, in Southwest China, where more than 1,000 fans from home and abroad gathered for lessons from 20 leading practitioners of the ancient Indian regimen, from June 17-21.
Yoga is to India what perhaps tai chi is to China.
Many countries other than India and China, also held the first World Yoga Day on June 21, after the United Nations last year agreed to Indian Prime Minister Narendra Modi's suggestion that a special day be marked in the year for the global practice of the stress-busting regimen, which is already a multibillion dollar industry in the United States.
Modi said in the speech: "Yoga is an invaluable gift of India's ancient tradition. ... It is not about exercise but to discover the sense of oneness with yourself, the world and nature."
Zarthoshtimanesh, who runs his own yoga center, Iyengar Yogabhyasa, in the Indian financial capital of Mumbai, says: "Chinese students are very respectful. For me, all students are the same no matter what their race is and where they come from. The most important thing is to remove mental walls."
Zarthoshtimanesh learned yoga from the late Yogacharya Iyengar and traveled with the master to different countries.
Consulate General of India in southern China's Guangzhou city organized the Chengdu festival.
"It's a very good opportunity for someone like me from a different background to get an insight into yoga," says Mary Car, 33, who practices yoga two hours every day.
She taught yoga in Australia and moved to Hong Kong six weeks ago after her husband was posted there.
She says the exposure to Indian yoga teachers in China has been different from her experiences of yoga in Western countries.
"My education of yoga is quite different from what I'm learning here, such as the subtle approaches. In the West, it's powerful and more about getting into postures. But here it's all about the internal transformation, with more focus on the breathing and mind-body connection."
Car says there are lots of benefits of doing yoga - physiological, emotional and even intellectual.
But the importance of getting the moves right in yoga should not be underestimated, fans say.
"The gurus are very professional and teach us some details, such as breathing, postures and safety precautions," says Liu Jin, 34, from Chongqing, who has practiced yoga for six years.
"Without proper guidance, green hands may suffer ligament or muscle strains."
Last week, she took three classes a day and spent about 3,000 yuan ($483) on the five-day training program.
She had a lumbar muscle strain after giving birth to her child several years ago. The pain was relieved after massage and acupuncture but didn't vanish. That's when she started to practice yoga again, about four times a week, and gradually recovered fully.
"Many Chinese think yoga is for women, but in Western countries, the sex ratio of yoga students is about half and half," says Liu Feng, a male yoga teacher and founder of Shanghai-based Yoga in China, a Chinese social-media platform.
"It's a bit awkward for men to take classes with so many women. Also, men like to show off their advantages in front of women. But in yoga classes, they can't do so because their flexibility is not as good as women's."
Liu Feng says yoga centers could include comparatively masculine yoga postures, such as the headstand, in their schedules and hold exclusive classes for men.
According to Liu Feng, while yoga may have been become popular in China owing to Western followers of the regimen, getting to learn about its traditional evolution from Indian gurus gives students a different perspective.
Zarthoshtimanesh first visited China to teach yoga in 2006.
He says because China is relatively new to yoga, people still have the opportunity to learn the real thing instead of many modern-day improvisations.
Dujiangyan, considered a birthplace of Taoism, is also famous for tai chi.
"Both philosophies of tai chi and yoga are used to realize the full potential of human beings, with different approaches," Zarthoshtimanesh says.
According to him, there are many cultural similarities between China and India.
For example, both the Taoist greeting and the Indian namaskar use the gesture of open palms pressed against each other.
"I notice that how we pass knowledge from a teacher to a student is the same in yoga and tai chi. Both need ample concentration, with some similarities of movement," says yoga master Sharath Jois, 44.
Born to a family full of yoga practitioners, Jois learned his first asana at the age of 7.
Contact the writer at xulin@chinadaily.com.cn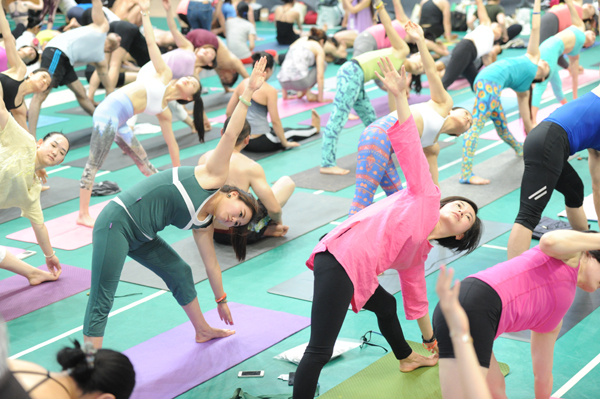 More than 1,000 yoga fans from home and abroad gather for lessons from leading practitioners in Dujiangyan, Sichuan province, during the IndiaChina international yoga festival running from June 1721. Provided To China Daily