Wanda poised to buy 3 more sports firms
Dalian Wanda Group Co Ltd, the Chinese property giant, will buy at least three more sports companies this year as it continues on its quest to become a leader in the global sports industry.
Wang Jianlin, its chairman, told Xinhua News Agency that he expects to announce a major acquisition very soon that would be "good news" for Chinese soccer, without giving further details.
In February, Wanda fought off 11 other international bidders to take over Infront Sports & Media AG, the world's most respected sports marketing company based in Zug, Switzerland, from the European private equity firm Bridgepoint in a deal worth around $1.2 billion.
The Swiss company owns copyrights and marketing sales rights for seven international sports associations that govern the Winter Olympic Games.
With control of Infront's resources, its sports event broadcast rights and marketing rights, Wang said Wanda now stands in the upstream of the sports industry.
Wanda also took a 20 percent stake in Spanish La Liga giant Atletico Madrid in April.
"One of our major concerns is that the companies involved in the acquisitions should have a dominating role in sports marketing," he said, adding they should also be prepared to bring something from the sports they specialize in to China.
"After buying the Swiss company, we are able to launch a series of sports activities in China," Wang said.
Wanda signed a three-year agreement with the Chinese Football Association in 2011 to invest 500 million yuan ($80.53 million) into promoting Chinese soccer, which included funding 30 young Chinese players each year to train in Spain.
"Everything we have done in the past and will do in the future is aimed at boosting Chinese soccer, which is really in need of more talented young players," Wang said.
In recent weeks, the Italian media have been speculating that Wanda is also interested in buying a 30 percent stake in Series A giant AC Milan at a cost of $170 million, and that it might also build the club's new stadium in the Portello district of the city.
Xie Liang, a veteran soccer commentator with Radio Guangdong, said Wanda's growing involvement in soccer is seen by many as a mirror of the country's strategic plans to upgrade industries at home.
"Getting involved in sport worldwide will help build a better image of Chinese companies, and help Chinese companies diversify into other businesses," said Xie.
In recent years, a growing number of traditional Chinese companies, especially in the real estate sector, have become involved in developing the soccer industry, either in cooperation with or by buying into overseas soccer clubs.
Evergrande Real Estate Group Ltd, the property developer based in Guangzhou, the capital of Guangdong province, has already formed an alliance with the Spanish giant Real Madrid to develop a soccer school in China and three overseas branch schools.
qiuquanlin@chinadaily.com.cn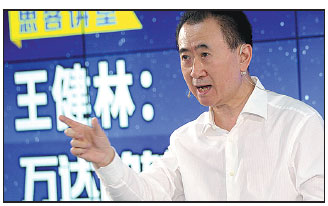 Wang Jianlin, chairman of Dalian Wanda Group, speaks at a sportsrelated forum organized by Xinhuanet.com in Beijing on Tuesday. Zou Hong / China Daily