Mexico filmmaker in China to pursue a dream he could not ignore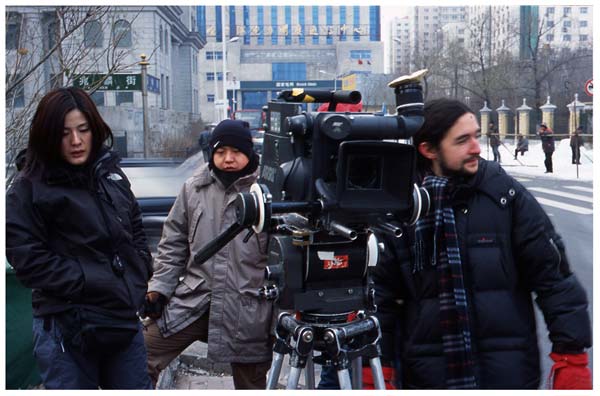 Pablo Mendoza was shooting his first feature fi lm in the city of Harbin, the capital of northeastern province of Heilongjiang when he took the job of director of photography. [PROVIDED TO CHINA DAILY]
Filmmaker Pablo Enrique Mendoza crossed a great ocean in search of adventure and in passionate pursuit of a dream, and found both in the chilled winter air of Northeast China, a wide distance from his vastly different Mexican culture and beloved hometown, Mexico City.
A graduate of the film academy in Mexico where famed Oscar-nominated directors González I?árritu and Alfonso Cuarón Orozco honed their craft, Mendoza has demonstrated a passion for China, a land far from his own.
It was the movie, The Last Emperor, by Italian director Bernardo Bertolucci that opened Mendoza's eyes to a profound culture and drew him to a world of the ubiquitous color red.
"Mexico also has a long history but I saw something deep in the Chinese culture," said the 31-year-old filmmaker. "For a Mexican teenager who has always been looking forward to exploring a strange world, it was very attractive."
He said his Chinese dream was started even earlier than his actual arrival in the country and his making his first feature film project of Dongbei, Dong bei.
During his first year in the film academy in Mexico, he soon found a foreign language center at his university where he gained his first direct contact with Chinese.
"In my opinion, his learning Chinese in Mexico is impressive and the fact that he speaks the language which he began to study in the university gives him access to a better understanding of the culture," said Raul Parra, his Mexican colleague in Centro de Estudios Mexicanos at Universidad Nacional Autonoma de Mexico in China (CEM-UNAM-CHINA), where Mendoza works as cultural and communication coordinator in Beijing.
When Mendoza used his scholarship provided by the Chinese government to further study film in Beijing in 2007, he was invited as the director of photography to work on his first feature film project in China.
Dongbei Dongbei, or North East China, the name of the film he was invited to do the cinematography by one of his Chinese fellows, Zou Peng, was described as an attempt to portray the mood of contemporary young people living in a city of the northeast part of China. The movie brought Mendoza to the city he fell in love with in the end.
"Harbin to me is like a poem, because of the winter, related something fragile and reborn," said Mendoza. "The region of Dongbei or Northeast China is a dream to me."
It does not matter which season it is but the light in the city of Harbin is beautiful, he said.
Born and reared in a country largely free of chilly winter, Mendoza was not scared off from the city's coldness, but attracted by the fusion and mixture of Russian and Chinese cultures.
He totally understood the life of Chinese people, said Zou Peng, a native of Harbin, the city full of Nordic vibe in its air that suited Mendoza's character.
"I decided to collaborate with Pablo Mendoza because of his sense of view through lenses and his indigenous attitude," said Zou. "His desire to do a film about China has been so strong that it is even harder to ignore that."
Alongside more well-known Chinese director Chen Kaige, and other famous directors around the world, Zou Peng and Mendoza were invited to attend Berlinale 2009 and later that year awarded as the International Federation of Film Critics in Hong Kong. Fifteen subsequent film festivals in the world invited the two filmmakers to attend.
Mendoza's Chinese name – Meng Duo – translates as dreaming a lot, and is pronounced similarly to his family name in Spanish. He said he just fulfilled his dream about China and films.
"And those dreams will never end," he said.
zhangyuchen@chinadaily.com.cn