Global role for UnionPay on the cards
Company forging partnerships in Europe to take on tough rivals Visa, Mastercard
China UnionPay is aiming to build a global bank card, issued and used in countries throughout the world, the company chairman says.
"Our ambition is for UnionPay to serve customers worldwide," Ge Huayong, chairman of China UnionPay and UnionPay International, says.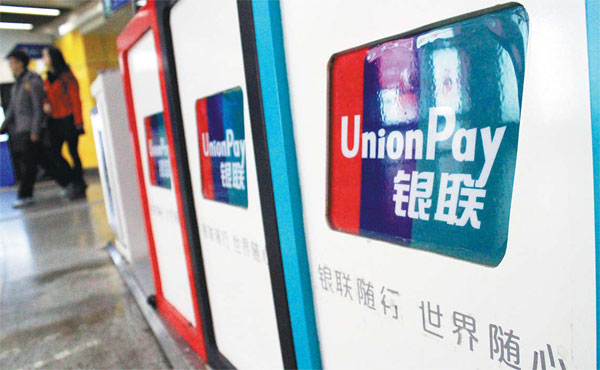 China UnionPay's cards are accepted in more than 150 countries and regions, and roughly 5 billion UnionPay cards have been issued globally. Provided to China Daily
"As a young company, we're still in the process of realizing this ambition, but we are growing fast."
He was talking to the media after a speech to about 200 industry experts at the Shanghai City Campaign Forum at the Milan Expo on June 10.
During the event, he signed an agreement with Cartasi SpA, an Italian credit card issuer, a deal he says is an example of China UnionPay's international development strategy to expand its customer base through partnerships with local companies in Europe, and in the process recruit European customers.
China UnionPay was founded in 2002 to enable cross-city, inter-bank transactions on cards issued by China's commercial banks. The proportion of all card-based spending to total retail sales rose from 2.7 percent before UnionPay's inception to 47.7 percent in 2014.
The company began to expand internationally in 2004 and founded UnionPay International, which has built partnerships with more than 300 institutions worldwide. Today, the company's cards are accepted in more than 150 countries and regions, and roughly 5 billion UnionPay cards have been issued globally.
According to the company, one key market has been South Korea, where one in five people have a UnionPay card. In Pakistan and Laos, its cards have been issued to customers for many years and have become the most recognized payment card. And in the United States, more than 90 percent of ATMs and more than 80 percent of retailers accept UnionPay.
These achievements have not come easily, considering the company is up against fierce competition from Visa and Mastercard, Ge says.
"UnionPay International is not a truly international payment card company because overseas transactions still only account for 2 to 3 percent of our overall transactions, but we have an advantage to expand fast because the Chinese economy is growing rapidly, so we are growing fast," he says.
UnionPay International's overseas expansion strategy has two models: One focused on developing economies, the other on mature economies, Ge says.
In developing economies, UnionPay International can use its expertise in the payment field to help its partners develop infrastructure, he explains. When the infrastructure is built, the company's cards can easily be used by those systems.
UnionPay International has already employed the model in Thailand, and is working to establish partnerships with other emerging economies, he says.
"It's similar to helping a partner country build a motorway. After it's built, our cars can easily be driven on it, so we can export more cars," he explains.
In mature Western economies, where Visa and Mastercard dominate the market, Ge says UnionPay International enters by first serving Chinese customers who travel abroad, for example, by helping retailers install its terminals so Chinese tourists can shop more easily at their outlets. Making a payment via UnionPay does not require foreign currency exchange fees.
The luxurious Ritz London Hotel was the first business in the British capital to install UnionPay terminals in 2011. Many other hotels and luxury stores followed suit, including Harrods and Selfridges.
Western banks have also become partners with UnionPay International, allowing UnionPay cardholders to withdraw cash from their ATMs. Some have also started to issue UnionPay cards to customers, although most UnionPay cards in Europe are still issued by Chinese banks, serving the Chinese community.
In March, Garanti Bank, Turkey's largest bank, started to issue UnionPay cards, and Ge says the company is discussing similar agreements with more banks, including Italian bank UniCredit Group, with whom he held talks this month.
"Such partnerships are beneficial for Italian banks, too, because it helps enlarge their customer base. We're building win-win relationships," he says.
One direct advantage of issuing UnionPay cards in Europe, he added, is that cardholders who travel to China or elsewhere in Asia can make transactions conveniently due to their wide acceptance.
In the future, however, Ge says he hopes the advantage will not be limited to Asia and that UnionPay will be a card of choice that can compete on a level playing field with Visa and Mastercard.
In mature Western countries, Ge says his company is also helping card-issuing and transaction organizations to upgrade their systems to incorporate UnionPay. For example, many Western card-issuers still use cards with magnetic stripes, which is an older payment recognition method compared with the more-advanced chip cards. All newly issued UnionPay cards contain chips.
"Chip cards provide greater security, and if we help European organizations upgrade their systems and infrastructure, we can make a natural entry into their systems and markets," Ge says.
UnionPay international has a presence in 38 countries and regions in Europe, according to the company. In countries such as Britain, Switzerland and Austria, most ATMs accept UnionPay, while in countries such as Spain and Germany, UnionPay is accepted in more than half of all ATMs.
In Italy, UnionPay International started to expand its operations in 2006, and now more than 70 percent of ATMs accept UnionPay. One-fourth of retailers in the country also accept UnionPay, from well-known brands to boutiques, as well as tourist destinations, Ge says.
In addition, more than 600 European universities, including those in the Czech Republic, France, Switzerland and Britain, accept UnionPay for the settlement of student fees.
To increase the issuance of UnionPay cards, Ge says the company first needs to work toward building the number of ATMs and retailers that accept them.
In China and some Asian countries, UnionPay has grown due to its high level of financial innovation, and as a result UnionPay can be used to purchase items in small retail stores and convenience stores, as well as for services on public transport and entertainment venues.
Ge says innovation is a core aspect of UnionPay's domestic strategy, and the company is bringing this mindset to the international market, starting with innovation in online payments.
The increased use of UnionPay cards also helps the internationalization of the renminbi, he added, by aiding its cross-border flow as Chinese travelers use UnionPay cards abroad.