Green financing to take root at bank
By Liu Jia in Brussels, Li Xiaokun and Lan Lan in Beijing | China Daily Africa | Updated: 2015-06-21 14:07




China-led financial institution gives Europe a way to plan action on climate change as Paris summit nears
The fledgling Asian Infrastructure Investment Bank is expected to shoulder more responsibility in the fight against climate change by offering green financing in developing countries.
In April, Jin Liqun, the bank's secretary-general, pledged the bank would be "lean, clean and green".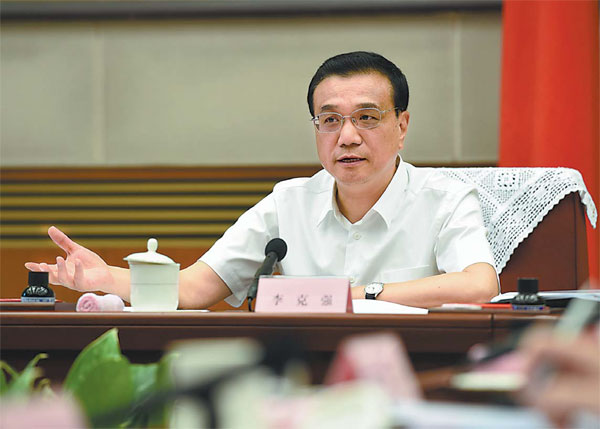 On June 12, Chinese Premier Li Keqiang chaired a meeting on the country's contribution to reducing greenhouse gas emissions. Rao Aimin / For China Daily
This is among the encouraging developments leading up to the United Nations Climate Change Conference in Paris in December.
The China-led bank's charter is set to be signed late this month, and 14 of the 57 prospective founding members are European Union member states.
This provides an opportunity, says Jeff Swartz, director of international policy at the International Emissions Trading Association, which aims to encourage a functional framework for trading in greenhouse gas emissions.
"The EU should carry on support and provide opportunities to finance low-carbon activities in developing countries, through either international carbon funds managed by the World Bank, the Asian Development Bank, or the newly established AIIB," Swartz says.
The EU has been a role model in its environmental efforts. It was early in its public declaration of the actions it intends to take under a new global climate agreement, which is expected at the Paris conference.
Last October, it committed to reduce its greenhouse gas emissions by at least 40 percent by 2030 compared with 1990. These commitments, which the United Nation asked countries to submit by March, are called the Intended Nationally Determined Contribution.
The EU is also urging other major players to get on board both multilaterally and bilaterally.
Noting that the G20 countries, which represent major world economies, account for 75 percent of total carbon dioxide emissions, the EU says it welcomed the November joint declaration of China and the United States, the world's two largest emissions sources.
According to the ambitious bilateral agreement on emissions reduction goals, China set a target for its carbon dioxide emissions to peak by 2030 and pledged to increase the proportion of non-fossil fuels used in primary energy consumption to about 20 percent by that year.
Under the agreement, the United States would cut its 2005 level of carbon emissions by 26-28 percent before 2025. The US repeated its pledge in its INDC, submitted at the end of March.
So far, 39 countries have sent their INDC proposals to the UN. Beijing is seeking to submit the INDC by the end of next month, says Su Wei, China's chief climate negotiator.
Chinese Premier Li Keqiang, who is also the head of the National Leading Group on Climate Change, Energy Conservation and Emissions Reduction, chaired a meeting regarding the country's INDC proposal on June 12. "The binding targets on energy conservation and emissions reduction set in the 12th Five-Year Plan (2011-15) could well be achieved as scheduled," he said.
He pointed out that last year China's energy consumption per unit of GDP and its carbon dioxide emissions dropped 29.9 percent and 33.8 percent, respectively, compared with 2005. Li says China looks forward to joining those concerned to push for a "comprehensive, balanced and strong agreement" in Paris.
Countries will reconvene in Bonn at the end of August for the next round of negotiations, and a further round is scheduled for October.
Brussels also hopes Li will make a bold resolution at the EU-China Summit scheduled to take place at EU headquarters on June 29.
At a news conference in Bonn, the EU's chief climate negotiator, Elina Bardram, said the EU assumes a meaningful and ambitious commitment from their partner is likely to be a highlight of the summit's joint communique.
Anna-Kaisa Itkonen, the European Commission's spokeswoman in charge of climate action and energy, says: "The EU expects climate action to play a prominent role at the coming summit, which we are currently preparing."
The EU Emissions Trading System is by far the world's biggest carbon market and is at the core of the international carbon market.
"Policy action on climate change is not only relegated to the EU," Swartz says. Instead, he stresses the carbon markets in Europe can be linked to 40 others around the world, including China's carbon market, to keep costs low and growth possible.
Such a move would allow more international collaboration to help finance South-South cooperation on global warming, Swartz says.
Meanwhile, China is expected to start operating its national carbon trading market on a trial basis by the end of next year or in early 2017, says Su, the climate negotiator who is director-general of the Department of Climate Change of the National Development and Reform Commission.
Seven Chinese cities' pilot carbon trading schemes are all operational at present, which means the country has the second-largest carbon market in the world.
"China's plans to launch a national carbon market will be an exciting policy as it will be one of the main drivers for China to meet targets in its 13th Five-Year-Plan," Swartz says, emphasizing that experience in the EU and California indicates it is "entirely feasible".
The Chinese government says it has taken climate change very seriously, and gives priority to green, low-carbon and circular economic development in promoting ecological progress. Circular economies aim to rebuild and reuse resources.
China now leads world in terms of energy conservation and development of new and renewable energy, Li says.
According to the latest World Energy Outlook Special Report on Energy and Climate issued by the International Energy Agency on June 14, China has implemented a range of complementary energy and climate policies domestically.
Besides the formation of the nationwide emissions trading scheme, the report says, China has carried out measures to reduce the carbon intensity of the economy, cut reliance on coal and introduce more stringent fuel-economy standards in transport.
It also shows the growth of China's energy sector is expected to slow in line with economic and population trends, but total investment in energy supply is still projected to average $265 billion year from 2015 to 2030.
"Investment in power generation capacity accounts for around $90 billion a year, with around 60 percent of this being for renewables capacity (mainly wind, solar and hydro), 19 percent for coal and 18 percent for nuclear."
Swartz says China has made great strides in climate change measures.
"It has become the world's largest funder of renewable energy in less than a decade," he says.
China will try to meet its target for carbon dioxide emissions to peak, set at around 2030, as early as possible, Li says.
A recent study published by the London School of Economics and Political Science and the University of Leeds says China's greenhouse gas emissions could peak by 2025, more than five years earlier than expected.
The authors of the paper, Fergus Green and Professor Lord Nicholas Stern, find the structural economic changes and recent Chinese government policies have combined to cause a "remarkably rapid shift" in the trajectory of China's emissions.
"China's international commitment to peak emissions around 2030 should be seen as a conservative upper limit from a government that prefers to under-promise and over-deliver," the paper says. "It must be remembered that China's pledge includes a commitment to use best efforts to peak before 2030.
"We are beginning to see the fruits of China's best efforts."