Valencia, the food and wine lover's paradise
There's something for everyone in the Spanish city of Valencia. Situated on the Mediterranean coast, there are several beaches, while the city itself is brimming with culture and beautiful architecture and not completely swamped by tourists.
It is also a food and wine lover's paradise: Restaurants and bars fill the city's streets and the markets are a destination in themselves.
Located in the old town, the central market is one of the biggest markets of fresh produce in Europe and is still where a lot of the city's inhabitants buy their groceries.
It is also the place to sample some Iberico ham at one of the ham stalls or some fresh Valencian orange juice from one of the many greengrocers.
You can stop for a horchata here, which is a cold, sweet, milky drink made from tiger nuts. A classic breakfast drink, served with fartons (a pastry similar to churros) which are then dunked in.
The old town is full of tapas bars. One of the best and cheapest is El Kiosko on Plaza Doctor Collado, not far from the central market. Order skewers of meat for a couple of euros at most or some pintxos - slices of bread with different toppings held together with a toothpick.
In nearby Plaza de Reina, try the "Grandma's meatballs" and morcilla de Burgos - a black pudding made with rice - at La Taverna La Reina.
In the same square is 100 montaditos, serving pintxos and one of the cheapest places to grab a bite to eat.
Valencia is the city which gave paella to the world. The city's namesake, paella Valenciana, consists of rice, green beans, chicken and rabbit, butter beans and snails. Other paellas available include seafood paella and mixed paella.
It is traditionally eaten at lunch but is available in some places for dinner. One of the best places to sample paella is La Pepica restaurant at the beach. Restaurant Levante in the city also specializes in it.
Most bars offer agua de Valencia, which is a more alcoholic version of buck's fizz made up of cava, orange juice, gin, vodka and sugar. It originated in the 1920s but is still popular and served in large fishbowl-type wine glasses.
Plaza de la Virgen in the old town or Plaza de la Reina near the cathedral are good places to people-watch while sipping this lethal concoction.
For something different to eat, Maria Mandiles serves shared dishes with a twist - their quesadillas with bacon, blue cheese and leeks are particularly moreish. As are the nachos with cheese and guacamole.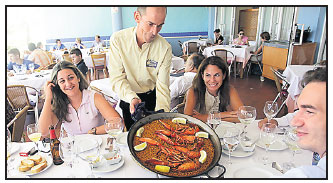 A waiter serves a traditional paella at a beachside restaurant in Valencia, Spain. Reuters