Evergrande optimistic about prospects under new manager
Big-spending Chinese soccer club Guangzhou Evergrande will fight for more trophies at domestic and Asian tournaments this year with former World Cup-winning manager Luiz Felipe Scolari at the helm, senior club managers said.
Scolari replaced Fabio Cannavaro, 42, who led Italy to the World Cup win in 2006, as head of the Guangzhou club, earlier this month with a two-and-a-half-year contract.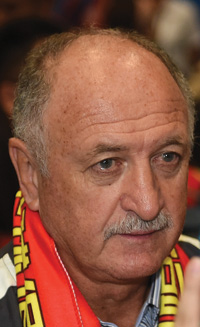 Luiz Felipe Scolari,

former World Cup-winning manager
"Chinese clubs have invested a lot in recent years in the development of professional soccer. I, with other coaches, have realized the importance of a huge investment to promote Chinese soccer," Scolari said.
At a news conference on Friday afternoon, the 67-year-old Scolari, who had quit his job as manager of Brazilian Gremio two weeks before signing with Guangzhou, said he has paid attention to Chinese and Asian soccer development in recent years.
"We hope to win more international trophies for the Chinese club," Scolari said.
Early media reports said the contract was for 5 million euros ($5.6 million) a year. However, neither Soclari nor the club disclosed the salary that the Brazilian will earn with Guangzhou.
"I can speak out some players' names. I need to know more about them and better work with the team to win more games," Scolari said.
The Guangzhou club, which was promoted to the top tier of the Chinese league in 2010, claimed four domestic titles and one AFC Champions League trophy under the leadership of Marcello Lippi of Italy over the past few years.
Though Scolari led Brazil to the top of the sport in 2002 in Japan and South Korea, he suffered a humiliating defeat in last year's World Cup in Brazil, where his team lost 7-1 to Germany in the semifinal.
Xu Jiayin, chairman of Guangzhou Evergrande, said the decision to bring in Scolari was based on the club's long-term strategy.
"We are always giving attachment to world-renowned coaches, for their experience and management. That's why we need another World Cup-winning coach to lead the team to a higher level," Xu said.
Xu said that bringing in Scolari will help avoid short-term risks, since Guangzhou had encountered difficulties in deciding on a starting lineup this season after injuries to key players.
Under the management of then-manager Cannavaro, Guangzhou saw injuries to more than 10 major players, which greatly affected the team's strength, Xu said.
"We are aiming to win the AFC Champions League and the domestic league this year. We believe we can realize this goal with Scolari," Xu said.
Xu said the club's long-term strategy is to develop a team with all Chinese players in its starting lineup within five to eight years.
"We have already established a soccer school, which will enable us to realize the goal of developing more Chinese players," Xu said.
qiuquanlin@chinadaily.com.cn