City honors slain NYPD Detective Liu
The memory of Wenjian Liu, a New York City police officer killed in the line of duty, has been memorialized with his name on a street in the Brooklyn neighborhood where he lived with his family.
On June 13, New York Mayor Bill de Blasio and New York Police Commissioner William Bratton attended the unveiling ceremony for "Detective Wenjian Liu Way". Also in attendance were the officer's parents and widow, along with survivors of Detective Ramos and dozens of police officers.
Liu lived in the neighborhood with his wife, Peixia Chen, and also had bought a home nearby for his parents, mother Xiuyan Li and father Weitang Liu.
"For the Liu family, for their neighbors, their friends, their entire community, this will be one physical manifestation of the life of a great man, one more reminder of his brave spirit," said the mayor, the New York Daily News reported.
"The story of Detective Liu is an American story," Bratton said. "It's an immigrant story. It's a New York story. But more than anything else, it's a Brooklyn story. I think you're well aware of the Chinese custom of children taking care of their parents. Wenjian Liu was all about that."
Liu, a native of Guangdong province, came to the United States at age 12 with his parents. He decided to be a police officer after the 9/11 terrorist attacks in 2001, and joined the NYPD in 2007.
"Our law enforcement officers sacrifice their lives day in and day out, in serving and protecting this great city. This city is our home," said Peixia Chen.
Liu, 32, and Ramos, 40, were sitting in their patrol car on Dec 20 when they were shot and killed in an ambush by gunman Ismaaiyl Brinsley in Bedford Stuyvesant, Brooklyn. Brinsley shortly afterward shot himself to death on a nearby G train platform as police closed in.
Brinsley, 28, who was born in Brooklyn, had traveled from Baltimore and posted on social media how he was going to target police.
Funerals for the two men drew more than 20,000 police officers from around the country. The city plans to unveil Detective Rafael Ramos Way on Ridgewood Avenue, Brooklyn, on Saturday.
williamhennelly@chinadailyusa.com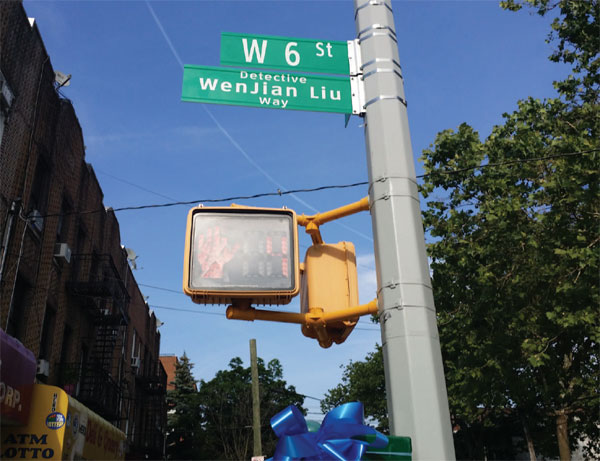 A street sign at the corner of West Sixth Street and Avenue T in Gravesend, Brooklyn, New York, honors the memory of New York Police Department Detective Wenjian Liu, who was shot and killed along with his partner Detective Rafael Ramos as they sat in their patrol car in Brooklyn in December 2014. William Hennelly / China Daily