LeTV users to get free 4G access
Firm buys one-year contracts from China Unicom for its smartphone buyers
Online video provider LeTV Holdings Co Ltd is giving free fourth-generation mobile access to its smartphone buyers.
The Beijing-based company, which released its first own-brand smartphones in April, said on Tuesday it has bought 12-month 4G contracts from China Unicom.
Users of LeTV handsets will receive 6 gigabytes of 4G access monthly to watch videos on the company's site. The allowance cannot be used on other sites and about 3.6 million users are expected to use it every month.
Both companies refused to disclose the actual price of the deal, but said the amount of 4G traffic was valued at more than 770 million yuan ($120 million).
Milly Xiang, a telecom analyst at research firm International Data Corporation, said the agreement is most likely the biggest procurement of carrier traffic in China.
"Playing online videos requires an extremely high amount of mobile traffic and that is perhaps why LeTV has purchased so much," Xiang said.
The six gigabytes traffic budget is enough to download eight high-definition movies.
Wu Zhaoxiang, manager of China Unicom's online shopping site, said the cooperation with LeTV is set to expand to more areas such as retailing and customer service.
Feng Xing, head of the smartphone division, said LeTV will have more partnerships with China Unicom, including selling LeTV-branded Internet televisions and smartphones in the carrier's outlets across the country.
"We are planning to sell one million smartphones using China Unicom's marketing channels across the country by the end of this year," Feng said.
The company is targeting at least 10 million handset sales in 2016, he said.
LeTV said it is selling devices at cost price and the profit will come from paid video contents as well as other services. Its unique pricing strategy has forced other vendors, including Xiaomi Corp, to lower the price tags for their flagship products.
The company is planning to beef up its content-making armfor an edge in the competition as the market begins to shrink. An IDC report showed first-quarter handset shipments in the world's biggest smartphone market fell for the first time in six years.
Emerging vendors are feeling increasing pressure as Apple Inc firmly holds the high-end demand while Xiaomi and Huawei Technologies Co Ltd are eating up large share of the 2,000 to 3,000 yuan market.
Lenovo Group Ltd, the world's third-largest smartphone vendor, let go of its mobile chief less than two weeks agobecause of poor performance in the country.
Wang Jingwen, an analyst from consultancy firm Canalys China, said as more local vendors release competitive products, the fight is set to be tougher.
"There is hardly any chance for a new player to enjoy rapid growth in China like Xiaomi did several years ago," she said.
gaoyuan@chinadaily.com.cn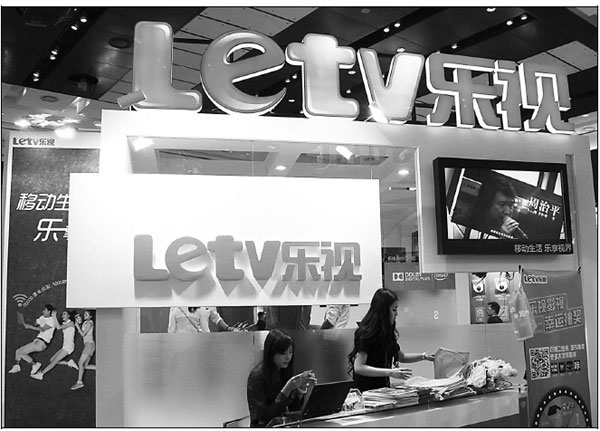 LeTV Holdings Co Ltd's stand at an international mobile Internet conference in Beijing. The company said it is targeting at least 10 million handset sales in 2016.Provided To China Daily