Building a future for Africa
Chinese company's boss uses team approach to massive housing projects
Hong Bo, assistant president of CITIC Group and chairwoman of CITIC Construction, has found a way to combine profitability with public welfare. In Angola, her company has built a new city while leaving the country with a whole operational industry chain and a skilled labor team for future development.
While Hong's firm sets an example for many Chinese companies, it is also trying to replicate its experience in more African countries. On May 29 in Nairobi, CITIC Construction, a Chinese multinational construction and engineering company, announced the launch of a $300 million investment with International Finance Corporation, a member of the World Bank Group, to develop affordable housing in sub-Saharan Africa. It will start by developing homes in Kenya, Rwanda and Nigeria, and then expand to other countries.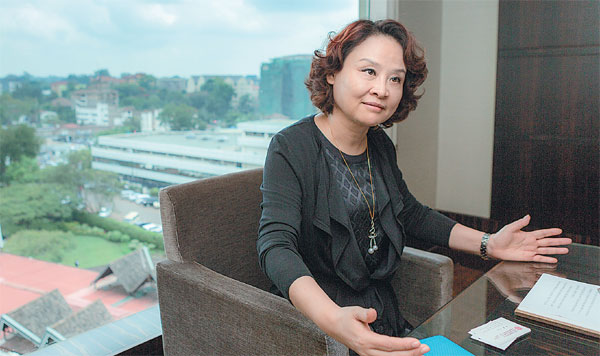 CITIC Construction Chairwoman Hong Bo says investing in people's livelihoods helps her company make profits in Africa. Xie Songxin / China Daily
"Africa is a very important strategic market for CITIC Construction," Hong told China Daily. "In the past 10 years, 70 percent of our revenue has come from Africa. We call our strategy in Africa depth development.
"Most of our projects overseas are related to people's livelihoods, including housing, agriculture and infrastructure. We have shared the cost of helping developing countries to get rid of poverty and promote economic growth there with the IFC."
Hong says Africa has great potential as a housing market because new homes are needed and existing ones need to be improved. But she says it is a market full of challenges: ill-defined land registration, an incomplete bank mortgage system and the shortage of quality construction materials in many African countries.
According to Oumar Seydi, IFC director for eastern and southern Africa, more than 40,000 people migrate into cities every day in Africa. However, there are few local developers with the technical and financial strength to construct large-scale projects in Africa's housing market. Kenya's housing shortage, for example, is estimated at 2 million units. Nigeria needs 17 million units.
"Only after overcoming these obstacles can we realize our desire to build affordable houses," says Hong.
In Angola, Hong's company has demonstrated how to make houses affordable while making a profit.
It started a $4 billion project in 2008, when the country was still experiencing a shortage of daily necessities, including construction materials and machinery. Hong says a single cucumber sold for more than 40 yuan ($6.5) when she visited the country in 2005 because of shortages.
Through planning, financing, construction and post-construction operation, the company completed a 200,000-unit housing program in Kilamba Kiaxi and also built up infrastructure and utilities over four years.
CITIC Construction has only about 1,200 employees globally, but the company managed to build up a whole industry chain to support the project, establishing construction materials factories to ensure supply, a farm to supply food to reduce the costs of workers, a logistics system to transport materials and equipment and also a training school to solve the shortage of skilled labor, all of which greatly reduced costs and made houses more affordable.
"We position our company as one who can do the differential solution. We are an initiator who builds up a platform and invites those who can join us.
"For example, if we want to launch a cement factory, we will first create a supply and demand relationship and ensure the investor has the least risk with the greatest profit. We are a stakeholder of the cement factory, but we will not be the operator because we have no expertise in running a cement factory. We should do everything, but it doesn't necessarily mean that we will do all of that by ourselves."
Hong called her model a "combined fleet", where different companies with different strengths are united to maximize their combined talent.
"A company is always profit-oriented. But we are not a government and we don't have a systematic support system. If we don't do those things (in a country with great shortages), we could hardly make money or make our products competitive," Hong says.
"We win EPC (engineering, procurement and construction) contracts by investing and financing, and then we promote the development of all related industries, and a whole operational industry chain will be left after we finish our projects."
The model can result in great economic benefit. While the World Bank estimates that one housing unit could create five full job opportunities, Hong believes CITIC projects can result in 10 jobs, since it is not just a housing developer, she says.
"Helping others is actually helping yourself. It's the reality in many developing countries that you will not be able to reach your goal if you don't help them in building a whole support system. If you would like others to build such a support system for you, you will not be able to reach your goal as well, as you will be restricted by them on price and cost."
She says many Chinese companies that thought they had won good project contracts, worth three times the amount of similar projects in China, suffered setbacks through lack of planning. "Materials and equipment of various kinds are available in China and you only need to make several phone calls to get them. You just cannot find many of them in many African countries no matter how much you pay.
"Without general planning, it's easy to start but difficult or even impossible to finish projects. What they bring to the investment destination countries will not be a package solution. If you only work as a property developer, it's hard to make money. My experience is, as a developer, you need to build up a whole supporting industry chain or lead other companies to build such a chain. Only in this way can you make sure you will succeed in your projects," Hong says.
The company pays close attention to cement production and logistics in Kenya. "It doesn't matter if you are going to purchase locally or import from other countries, it's key to have a smooth logistics system and an efficient team," she says.
She says Chinese companies should also be prepared, psychologically, to put down roots in Africa for long-term development. "If you want to take root here, you must involve the locals in various levels, not only the labor force but also executives, and integrate yourself into the local culture by cooperating with all kinds of local companies.
"It's our objective to localize our employees. If there are no skilled workers and executives available, we could train them ourselves. That benefits countries and equips them with the talent they need. It also helps Chinese companies solve practical problems by reducing labor costs and making development sustainable."
In Angola, CITIC Construction launched CITIC BN Vocational School, which accepts students, aged 18 to 26, from families below the poverty line. The school offers free accommodation and food, and there are no tuition fees. Graduates get a diploma endorsed by Angolan authorities after one year of study. The first group of students, numbering 100, graduated in May.
Hong says a special department has been established in the company's Beijing headquarters for the vocational school project and that CITIC may expand the model to more African countries in the future.
houliqiang@chinadaily.com.cn