Beach towns of Florida more fun than you know
While summer is the traditional slow season for tourist resorts in hot and muggy South Florida, it is peak season 965 kilometers northwest in the beach towns of Florida's Panhandle. From St George Island in the east to Pensacola Beach in the west, there is plenty to explore in this sometimes-overlooked region.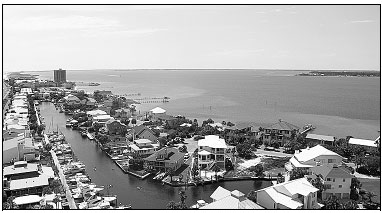 Santa Rosa Sound and Pensacola Beach in Florida have a lot to offer for summer vacationers. AP
Pensacola Beach offers gleaming white sand and warm turquoise waves. The beach is buffered on both sides by lengthy stretches of Gulf Islands National Seashore, a protected national park and wildlife sanctuary where visitors can hike, bike or kayak along more than 30 km of pristine shoreline.
Pensacola Beach itself is an ideal location for a family vacation or a romantic getaway. Smaller than the popular Panhandle towns of Destin and Panama City Beach, there is still plenty to see and do on Pensacola Beach and in the city of Pensacola.
The hub of Pensacola Beach is Casino Beach, which sits under a giant water tower painted like a beach ball. In days past, food offerings on the beach's main fishing pier were limited to a single hot dog vendor.
The new Casino Beach Bar in Grill offers a variety of dishes including shrimp and mango ceviche and fish tacos. The restaurant includes a full bar along with a covered beach patio with cooling sprayers. Visitors can enjoy their food while watching surfers go for breaking waves near the pier or cheering on an impromptu game of beach volleyball.
Downtown Pensacola has undergone a major revitalization in recent years. About 10 minutes away from Pensacola Beach, Palafox Street is downtown's main drag. The street features a variety of shops, bars and restaurants and is home to a regular Saturday morning farmers' market with fresh food, vegetables, baked goods and items made by local artists and crafters.
On most Sunday evenings during show season, six F-18 fighter jets streak over the beach before heading home to Pensacola Naval Air Station, a US Navy base. The acrobatic team of jets, called the Blue Angels, is based here and practices here, but they travel to other locations in spring, summer and fall for their performances.
Pensacola Beach offers a variety of stereotypical beach bars where covers of Lynyrd Skynyrd's Sweet Home Alabama and Jimmy Buffett's Margaritaville can be heard day and night, and fried shrimp and oysters on the half-shell are menu staples.
Of course, the ideal place to hang out is the beach itself. Every Tuesday night at the pavilion on Casino Beach you'll find Bands on the Beach, a sunset performance by various musical groups. Bring a towel, folding chair and picnic dinner and join the crowd in enjoying the music and the beach. Dancing is optional.