Mussels muscle into seafood sector
Chile and China have their eyes set on expanding their fishery trade, as they turn this year to a new free trade chapter.
In mid-April, a delegation of Chilean businessmen embarked on a promotion tour of three Chinese cities to establish a market in China for Chilean mussels.
"The Chinese market is ideal for the Chilean mussel business as they have the same habit of consuming the seafood," said Laurence Ho, who is in charge of the promotion tour of Patagonia Mussel in China. "But it also needs more education."
Because of its great distance from China, Chile processes and exports most of its seafood using quick-freeze technology, a challenge in the Chinese market since Chinese lean toward fresh seafood, believing the nutrition is maintained.
Chilean businessmen are confident, however, about their products traveling far away from the country. With no advertisement of the mussels and other fishery products such as salmon, Chilean seafood ranked seventh last year among the most consumed imported seafood products in China, said Andreas Pierotic, minister counselor for economic and commercial affairs with Chile's embassy in China.
"We are mainly aiming at the high-end consumption potentials, and they are our main targets," said Jose Miguel Barros, export manager at Orizon S.A., a company belongs to the Group of Copec Companies, one of the largest fisheries businesses in South America. "We know some overseas exporters already sharing some proportions of the mass market. We won't be emphasizing too much on the price-driven market."
The confidence reflects not only on the good reputation Chileans have established in European markets, where 70 percent of the Chilean seafood exported is mussel, but also on the quality of the products guaranteed due to the less polluted sea waters in the Patagonia area, in the southern part of Chile.
"The whole chain of production and processing is under our control," said Alvaro Cortese, product manager of the shellfish division of Camanchaca, a leader in the Chilean wild fishery. "We make sure of the security of the fishery food at every step."
Even though the Chilean mussel representatives think their competitiveness lies more on the quality and taste, the food is affordable at around $5 per kilogram of the importing price.
It is also a good chance for the e-commerce market participants to take a share in the maturing imported food market.
According to Intrafish, which reports on seafood markets, the volume of exporting seafood from Chile totaled nearly $6.2 billion last year, with $700 million of that to the European market.
The schedule for Chilean seafood to enter the Chinese market will be in two years, said Miguel Barros at Orizon. During the time period, more types of products will be considered, such as Chinese favorite abalone.
zhangyuchen@chinadaily.com.cn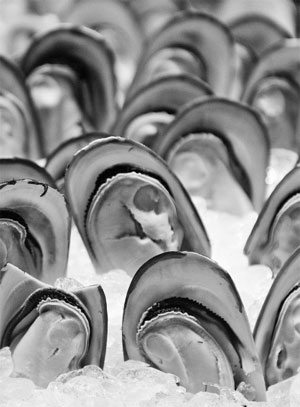 Chilean businessmen embarked on a promotion tour of three Chinese cities to establish a market for Chilean mussels in April. Provided to China Daily