Colombia asks China to help with rebuilding
By Zhao Yinan in Bogota, Colombia and Zhang Yunbi in Beijing | China Daily | Updated: 2015-05-23 07:33




Leader welcomes assistance with construction of roads, ports and airports as he meets premier
Twelve agreements were signed as Premier Li Keqiang and Colombia's President Juan Manuel Santos highlighted their shared goal of boosting cooperation over infrastructure construction and production capacity.
The deals were finalized by the two countries in Bogota, capital of Colombia, on Thursday during the second stage of Li's four-nation tour of Latin America.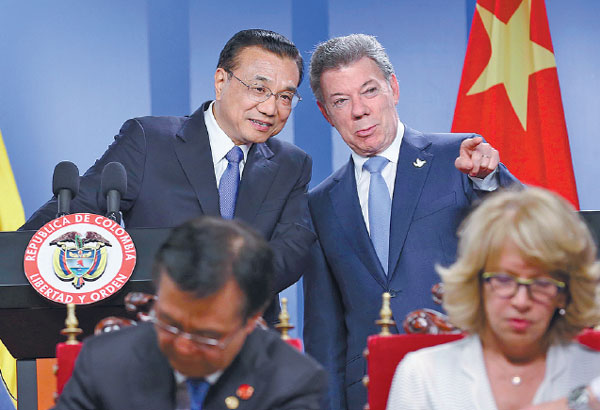 Premier Li Keqiang and Colombian President Juan Manuel Santos witness the signing of agreements in Bogota, Colombia, on Thursday. The two countries signed 12 deals covering infrastructure and production capacity. Liu Zhen / China News Service
During talks with Santos, Li said cooperation over production capacity and manufacturing are key priorities. The Chinese government "encourages domestic enterprises to proactively participate in the building of infrastructure for expressways, subways and ports in Colombia", he said.
Santos said Colombia welcomes China's energetic participation in the construction of expressways, subways, airports and ports as well as in the country's economic development zone.
Talks on cooperation over equipment manufacturing and agriculture are also expected, he added.
Tang Jun, deputy head of the Institute of Latin American Studies at Zhejiang International Studies University, said Colombia has seen its trade with China grow rapidly in recent years, while trade with the United States has been sluggish.
"Future highlights of China-Colombia industrial cooperation may involve mineral mining and processing, the agricultural processing sectors and mechanical and electronic products," Tang said.
Li said cooperation with third parties will be energetically expanded and China "will help Colombia advance its industrialization process".
"Although the two countries are far apart, their economic cooperation has great potential, especially as Colombia is in a period of rebuilding and is in need of infrastructure construction," the premier said at a news conference after the meeting.
"China is willing to import more agricultural products from Colombia, such as coffee. If time permits, I'd like to play ping-pong with President Santos.
"On the other hand, China is willing to see more Colombian soccer players and coaches come to China and help us improve in that field."
Santos said Li is the highest-level Chinese leader to visit the country in 30 years, and he described the trip as a milestone in bilateral ties.
"Colombia greatly values China's influence in the Asia-Pacific region," he said.
Li sent his condolences to the victims of this week's deadly landslide at Salgar in the northwest of the country and pledged China's support.
Contact the writers at zhaoyinan@chinadaily.com.cn