Runners take on China's 'most-testing' marathon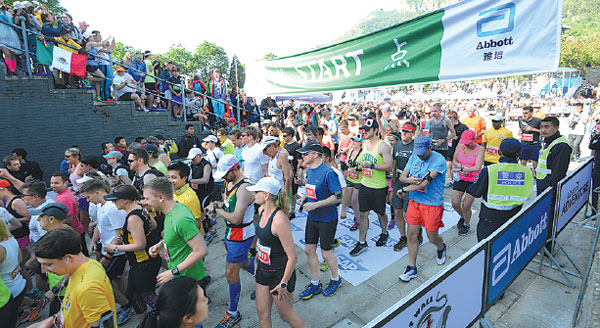 The 16th Huangyaguan Great Wall Marathon was held last Saturday in Tianjin. Around 2,500 people from 50 nations and regions took part in the event. Photos Provided To China Daily
Main sponsor Abbott Labs offers essential medical backup for Great Wall challenge
Long-distance running has become big business in China - a fact not lost on Abbott Laboratories, the United States healthcare company, which was one of the main sponsors of this year's 16th Huangyaguan Great Wall Marathon, held on Saturday in Tianjin.
According to the organizers, around 2,500 people from 50 nations and regions took part in the event.
This year's winner was Shen Jianfeng, a 38-year-old runner who actually works for the US company in Shanghai as a sales suppport manager, with a time of three hours and 41 minutes.
The marathon, which began in 1999, is regarded as one of the world's toughest running events, because of the unique challenges faced along the course. It was named recently by Forbes Magazine as one of "Top 10 Marathons Worth Traveling For" due to the breath-taking scenery it takes in.
Shen said his champion's medal will be particularly special as his 8-year old daughter was not there to watch his victory, given the grueling nature of the challenge which sees runners hike, climb and crawl up some 3,800 steps along 42.195 kilometers of the famous structure.
"Before the marathon, I told my daughter that her father was the strongest man in the world. And now I have made it," Shen said.
His wife and daughter have previously enjoyed watching him at many marathons, and it is his hope that his win will inspire the daughter to enjoy the sport for herself later in life. "I hope my daughter loves all kinds of sport, and has a healthy lifestyle by doing that."
Data from the Chinese Athletic Association show that there were 51 marathons held in China last year, involving some 900,000 participants, up from 22 contests and 400,000 participants in 2011.
Experts said the huge increase in interest in tackling the marathon has stimulated a massive demand for products related to running, as more and more sports products makers, and advertisers such as Abbott emerge to back the sport.
A main part of Abbott's involvement in this year's Great Wall run was to supply medical-support staff with its i-STAT, a hand-held testing device used at a patient's bedside that provides lab quality results within minutes. The device can help staff quickly diagnose and treat a range of health conditions - from heart problems to dehydration - that may occur during the race.
Officials at the company said that Abbott is a natural fit as a sponsor of such a strenuous event, as the company is dedicated to helping people achieve their goals through better health. "Abbott has long been in the business of life - creating more possibilities for more people through the power of health," said Elaine Leavenworth, senior vice-president, chief marketing and external affairs officer at Abbott.
"Through our title sponsorship of the Abbott World Marathon Majors, and now our partnership with the Great Wall Marathon in 2015, we are celebrating the achievement of runners as they demonstrate what is possible when we are at our healthiest."
Rune Nortoft, an event organizer, said the use of such high-tech equipment has greatly improved the onsite testing of runners, providing invaluable precautions against injuries. He said that some medical organizations have used the i-STAT to test the conditions of injured people in the devastating earthquakes which struck Wenchuan county in Sichuan province in May 2008.