China's changing sweet tooth
Firms face dilemma of being local or going global, says candy company boss
Six of the 10 largest confectionery companies in China are multinationals, but many still struggle with how "local" they would like their brands to be in China, says Shawn Warren, managing director of Perfetti van Melle in China. Perfetti Van Melle owns the candy brand Alpenliebe, one of the largest candy brands in the country.
Originally from Italy and the Netherlands, now one of the world's largest confectionery and chewing gum companies, Perfetti Van Melle made its first appearance in Shanghai in 1994, and faced the challenges of having a limited distribution network and being an unknown brand in China.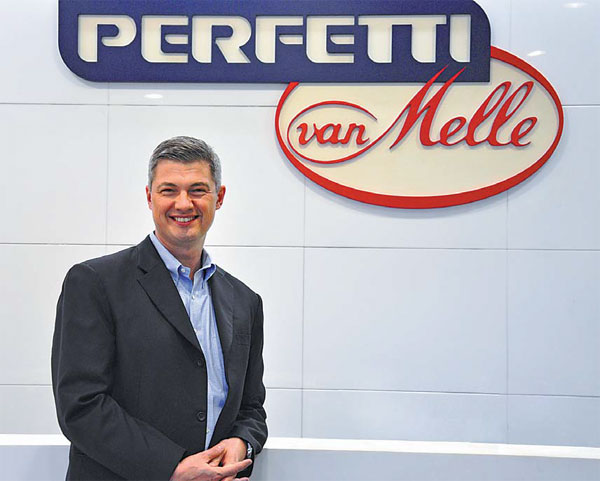 Shawn Warren, managing director of Perfetti van Melle in China, says since the company entered China in 1994, the Chinese market has been growing rapidly and by now is among the company's top three largest regional markets. Provided to China Daily
Two decades later there is greater recognition for the brand and more Chinese consumers are enjoying the product.
Perfetti Van Melle has made China the largest market in terms of the company's sales volume.
"Our Chinese business is significant for the group. Since the company entered China in 1994, its market has been growing rapidly and by now we are among the top three largest regional markets."
Alpenliebe was introduced in Italy during the 1970s. It is now the second-biggest confectionery brand in China. "But when the brand first entered China 20 years ago, though it had roots in Italy since the 1940s and was well known in Europe, building a brand in China was certainly one of the most pressing challenge at the time."
The marketing strategy for Alpenliebe has evolved to link Chinese traditions with consumption patterns. Warren says: "Soon after entering China, we developed the individually wrapped candy that sells in loose format in big supermarkets for the needs of Chinese New Year, when people want to share sweets. This format - pick and mix - is important in China."
The company's investment in China also includes a research team of 100. The team's innovation has gone beyond the domestic market and spread into other territories. "Back in the 1940s, the best ideas and practices were from Italy. Now we are able to feed back to Italy with new flavors produced in China, for instance, the coffee flavored candy or the Alpenliebe lollipop, which was a major hit with a younger audience."
Decades of making and selling candy in China gives the company insights into the country's transformation. "Traditionally, candy was served only at celebrations, such as weddings and Spring Festival. Now as the country evolves and has an affluent population, it has become an everyday treat."
Many more international confectionery brands have entered China, according to Warren's experience, with more multinational companies looking to bring in or tailor operations for Chinese consumers.
"But one of the problems these companies often struggle with is how local, or 'Chinese', they should become, versus having the exact same product you can find in the United States or in Europe."
Warren's answer to the struggle is Chinese products for Chinese people.
"The reason that we did it successfully in the two decades is because we have been very flexible and listen to our Chinese consumers."
There is also consolidation to contend with, as bigger companies snap up smaller companies.
Perfetti Van Melle itself is an example. The privately-owned company was formed in 2001, when the Italian group Perfetti acquired the Dutch company Van Melle. The latter brought in major brands including Mentos, now the largest brand within Perfetti Van Melle.
In China, the trend of consolidation also extends to retailers. Warren says grocery stores and small convenience stores are consolidating into large-scale chains.
"E-commerce is huge in China and we also see how some e-commerce retailers consolidate with each other and grow bigger."
Today's biggest team in Perfetti Van Melle's China operations remain the 3,000 salespeople who are, as Warren puts it, "in their motorcycles and vans everyday, selling sweets all across the country".
For China Daily