China serves up 'hope' at Milan Expo
Second-largest pavilion at international event showcases country's food and its ties to culture
China launched its largest-ever pavilion outside the country at the Milan Expo on Friday, showcasing the nation's rich agricultural history, food culture and artwork.
Covering about 4,500 square meters, second only to the 4,900-sq-m Germany Pavilion, the China Pavilion is themed "The Land of Hope", echoing the theme of the 2015 Expo - "Feeding the Planet, Energy for Life".
Taking place from May 1 to Oct 31, the Milan Expo has participants from about 140 countries, of which 53 have built their own pavilion.
Jiang Zengwei, chairman of China Council for the Promotion of International Trade, which led the organizing of the China Pavilion, said that China will tell the world the stories of agriculture and food that are deeply embedded in its culture.
"Through our exhibits, we hope to showcase China's long history of agriculture, great variety of food types and the great contribution China has made in promoting food security globally," he said.
Vicente Gonzalez Loscertales, secretary-general of the International Exhibitions Bureau, said China's participation in international exhibitions has witnessed great progress over the years, and in particular he believes the Shanghai Expo has changed the image of expos.
Loscertales said that the design of the China Pavilion perfectly showcases a combination of tradition and modernity, which is central to China's values.
Carlo Calenda, Italian deputy minister for economic development, congratulated China's efforts to bring the large-scale China Pavilion to the Milan Expo, and for being one of the first countries to complete the construction of its pavilion.
Calenda said that China has very good cooperation with Italy in the food and agricultural sector, and both countries believe that food is not just about eating, but presents an important way of life.
Inside the China Pavilion, exhibits showcase China's ancient food culture with stories that are specific to particular regions and cities. Clay figures stood inside a large exhibit showing Chinese people eating and making food, or chatting around the food table, conveying the message of how food has brought together different people in the Chinese community.
All these stories are coherently incorporated into the design of the China Pavilion, which is a wheat-field shaped pavilion consisting of more than 20,000 straws of "wheat" made from steel and wood.
Each straw inside the pavilion is installed with LED lights that can be remotely controlled. They change colors constantly, giving visitors a sense of growing crops. The roof is covered by bamboo tiles, in the shape of many small individual straws, creating a feeling of harvesting.
As the host of the 2010 Shanghai Expo, China has brought to the Milan Expo three pavilions: the China Pavilion, the China Corporate United Pavilion and the Vanke Pavilion, covering a total area of 6,700 square meters.
cecily.liu@chinadaily.com.cn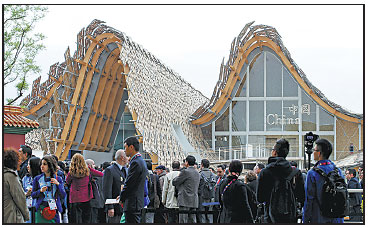 The China Pavilion, which features the country's food culture, is seen at Expo 2015 in Milan, Italy, on Friday. The expo will run from Friday to Oct 31. Alessandro Garofalo / Reuters