Innovation brings rewards for Siasun
An increasing number of Chinese companies are going global with their brands
Baymax, the personal healthcare robot in the movie Big Hero 6, managed to strike an immediate chord with audiences with his charm and humor and ability to help people. While Baymax is still a fictional character, it may not be too long before personal robots for healthcare become a reality in China.
Siasun Robot & Automation Co Ltd, a robot manufacturer based in Shenyang, capital of Liaoning province, has already developed robot nurses and started testing them from last year.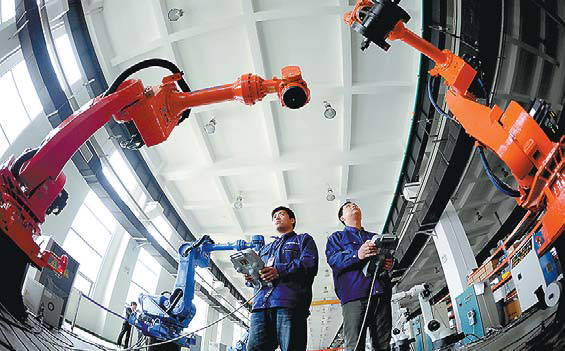 Workers test industrial robots at a Siasun Robot & Automation Co Ltd plant in Shenyang, Liaoning province. Provided to China Daily
The robot can talk, email, text, detect gas leaks, and run around on its two wheels for eight hours on a single two-hour charge in test conditions.
"What we want to do is not just produce robots, but solve some social problems, such as the aging population challenge, by developing intelligent robots," says Qu Daokui, president of Siasun.
"That also presents our brand's core value -responsibility, beyond and share," he says.
Set up in 2000, Siasun is a pioneer in Chinese robot technology and equipment for manufacturing, storage and logistics automation. Its products have been widely used in the automobile, motorcycle, electrical appliance, tobacco, chemicals, food and finance industries.
The company, listed on the Shenzhen Stock Exchange in 2009, has a market value of nearly 28 billion yuan ($4.56 billion), and ranks among the top three robot makers in the world.
Qu says that the company's biggest asset has been its innovation.
"High technology is not something that can be purchased from the market. The only way to gain it is through innovation. With the global market changing rapidly, the need for innovation is inevitable. In the high-tech industry, competition is more on the basis of the brand, rather than price. Innovation is the key to improving our brand," he says.
The company employs 1,600 people, three-quarters of them on research and development. About one-eighth of the company's revenue is plowed back into R&D. Their products filled dozens of gaps in Chinese robot industry, which also enhances the core competitiveness of the company.
Every year, the company develops dozens of new products in areas like industrial robots, clean (vacuum) robots, mobile robots, special robots and intelligent service robots. The new products contribute more than 30 percent to its revenue each year.
Innovation also helps it score over international rivals in performance and after-sale technical support. In 2007, it was named one of the suppliers for General Motors Corp, a move that saw its products being exported to more than 10 countries.
Ha Enjing, its director of global branding, says: "The GM deal radically changed China's domestic robot industry, which until then had only imported robots and not exported them."
Since 2008, Siasun has exported nearly 300 automated guided vehicles, mostly for use in the automotive industry to 13 countries. The number of AGVs exported fluctuates between 30 and 50 a year, depending on the manufacturing needs of the buyer.
In 2003, sniffing the internationalizing breeze that was blowing through the industry, the company set up its worldwide headquarters in Shanghai. In the future, it will work closely with universities and research institutes, and grow further on the back of mergers and acquisitions overseas, as well as gradual expansion of its sales in that sphere.
However, domestic sales will still be a top priority for the company due to the huge demand from the domestic market, Qu says.
Statistics from the China Robot Industry Alliance showed that 37,000 industrial robots were sold in China in 2013, accounting for more than one-fifth of the global market. That has helped the country replace Japan as the world's largest industrial robot market.
The International Federation of Robotics estimated that 50,000 industrial robots will be sold in China this year and an estimated increase of at least 25 percent on average per year is likely to push the number to about 100,000 units in 2017.
"This focus on the domestic market does not mean we will ignore the global market. We have preliminarily realized the internationalization of products. Next, we will realize the internationalization of the whole company, that is international management, international mergers and acquisitions and the recruitment of international talent," says Qu.
However, the core brand value of the company will never change - to contribute to society.
"The past 50 years of robotics development has been mainly about machines, and the main battlefield has been manufacturing," Qu says.
"That is changing, and the focus is changing to the humanization of robots. Intelligent service robots will offer convenient solutions in more social areas, such as labor shortage and health care services.
"My dream is to realize human liberation through technology. Intelligent robots will be the backbone."
liuce@chinadaily.com.cn