Abu Dhabi joins Welcome Chinese initiative
Program aims to boost China arrivals and visitor experience
For many Chinese people, the Middle East is a mysterious place far, far way. However the region is opening its arms wide to the Chinese to offer them a new holiday destination after Abu Dhabi, the largest emirate in the United Arab Emirates, joined the Welcome Chinese program.
The China Tourism Academy-led program is a hospitality standard specifically designed for Chinese travelers. It covers 20 hotels in Abu Dhabi, as well as the Galleria shopping mall and two amusement parks - Ferrari World and Yas Waterworld.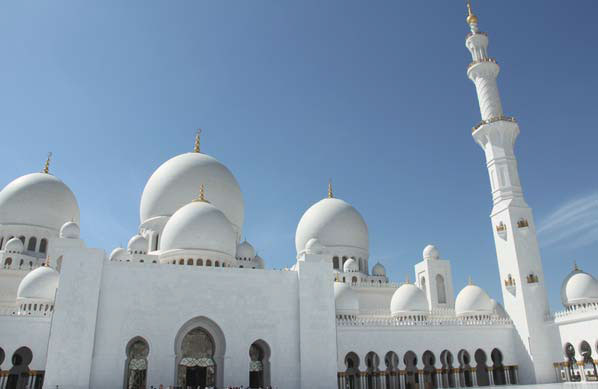 The majestic Sheikh Zayed Grand Mosque is a must-see site in Abu Dhabi. Provided to China Daily
The certified hotels and attractions will offer a series of conveniences for Chinese tourists, such as Chinese-language signs and TV programs, Chinese-speaking staff and payment through China UnionPay, China's sole credit card issuer.
The fast growth of China's economy, the appreciation of the Chinese yuan and welcoming policies by a number of countries saw the number of Chinese outbound travelers hit a record 109 million last year. This marked an increase of 17 percent from 2013, said Dai Bin, president of the China Tourism Academy.
Dai noted that 63 percent of Chinese outbound travelers were individual tourists last year, and the number is still on the rise.
'Deeper experience'
"Tourists are no longer satisfied with quick tours and shopping," he said. "More of them prefer a deeper experience of the destination."
The president suggested that Abu Dhabi's tourism authority and companies design products for people of different ages, because "the UAE and China are both countries where people treasure tradition, and we noticed that more Chinese tourists like to travel with their families".
The growth of Chinese tourists to the UAE started in 2007, he added.
Three years ago, China was the 20th-largest overseas tourist source for Abu Dhabi, but it is now the fifth, said Mubarak Al Shamsi, director of Abu Dhabi Convention Bureau, at a tourism forum last month. From 2013 to 2014, the number of Chinese visitors increased 166 percent.
He noted that the average length of visit of Chinese tourists was only about one and a half days.
He said the government has been developing an affordable and luxury experience to appeal to Chinese visitors, but beyond that, they also "look specifically at what Chinese visitors want and require".
"With our support, the Welcome Chinese initiative will progress in the next two years, to boost arrivals and to help visitors see more and do more in Abu Dhabi, and to make Chinese visitors stay longer."
Jacopo Sertoli, president of Select Holding Ltd, a partner of Welcome Chinese, said that the program helps the travel industry understand how to welcome Chinese travelers and helps travelers make choices before leaving China.
It also aims to support Chinese travel agencies "in giving content that better serves their clients, and helps those individual travelers find necessary information to have the courage to travel abroad alone", he said.
'Dream destination'
Abu Dhabi is "a dream destination for Chinese travelers", said Sertoli.
"You can look into the desert and lose yourself. You can stand on the beach and relax. You can do business downtown and you can play golf. You have attraction parks. There is enough to do that you can easily spend more than one and a half days here, I believe," he said. "We will work to make this happen in the Chinese market, and make sure all the work is done."
The Welcome Chinese-certified Ferrari World is the Italian carmaker's first theme park and the largest indoor theme park in the world.
Located under an iconic red roof with a Ferrari logo, the theme park hosts more than 20 attractions, including displays of Ferrari's classic models from different times, racing car simulators and live performances. The most popular attraction is the G-Force, the world's fastest roller coaster that runs at up to 240 kilometers per hour.
The theme park also offers a wide variety of Italian delicacies and shopping.
Another must-visit site in Abu Dhabi is the majestic Sheikh Zayed Grand Mosque, built under the supervision of Sheikh Zayed bin Sultan Al Nahyan, the late president of the UAE.
The 12-hectare compound cost more than $500 million and took 11 years to complete. It has capacity for 40,000 people to worship together and many of them kneel on the world's largest handmade carpet.
Top hotel
Li Wei from Nanjing, in Jiangsu province, has worked at Viceroy Hotel's restaurant for about a year. He is one of the 10 Chinese employees in the hotel, the top one on Abu Dhabi's Yas Island.
Li is a hotel management-major graduate and said that the working environment at the Viceroy was better than in China, as interpersonal relationships were simpler.
"I see everyone here is devoting themselves to work," he said. "And working in this internationalized city has broadened my horizons."
He said that the increasing number of Chinese tourists visiting Abu Dhabi meant more pressure on Chinese employees like him, but it also shows how important they are.
Li's co-worker Wu Xiaojia, a 23-year-old from Sichuan province, said the five-star hotel has higher standards than those in China.
Although Wu has worked in Abu Dhabi for six months, she said one thing she still was not used to was the taste of the local food. "In my hometown in Sichuan, we like spicy food, but here most of the food is sweet or sour," she said.
Both Li and Wu said their salary at the hotel was not high, but they valued the work experience more, as it was an opportunity to learn new things to prepare them for their future careers.
Chinese tourist Jiao Jianguo, who visited Abu Dhabi in February, said he was impressed by the advanced tourism infrastructure and clean environment. He added that what impressed him most was Ferrari World, for its automobile culture and the speed experience. He also recommended sand surfing in the desert.
"I once thought Abu Dhabi was a land of desert, but now I see a wonder of modernization," he said.
Jiao's wife Liu Guihong said she enjoyed the peaceful and relaxing lifestyle in Abu Dhabi. "Everyone seems to be enjoying life," she said. "Everyone I see here is energetic, friendly and smiling."
The couple stayed for a week and said they wanted to visit again. "Maybe in January, when it is cooler," said Liu.
zhangzhao@chinadaily.com.cn