Problem-plagued Milan Expo battles a long list of headaches
Less than three weeks before the Milan Expo opens on May 1, the site of the showpiece event is still a mass of trucks raising dust and workers in hard hats racing to finish building after delays, corruption and cost overruns.
Italy has had four different governments in the seven years since Milan was chosen to follow the 2010 Shanghai Expo and has undergone its most severe economic crisis since World War II.
But 40-year-old Prime Minister Matteo Renzi is counting on the event to reinforce fragile signs of recovery and put a more modern face on Italy after the years of recession.
Officials are counting on about 20 million visitors to the six-month-long exhibition of products and technologies from around the world. They hope it will bring in 10 billion euros ($10.75 billion), half of it from foreign visitors.
Nine million tickets have been sold already, a third of them outside Italy, for an event seeking to broaden its appeal with interactive exhibits such as a supermarket of the future, cultural events and shows at an arena and an artificial lake.
A total of 145 countries are taking part with China, a growing presence in the Italian economy following a series of acquisitions ranging from luxury yacht maker Ferretti to tire maker Pirelli, will be particularly well represented.
Intended as a celebration of Milan's openness to the world and an exploration of new approaches to sustainable food, the event has so far stood out for the chronic corruption and waste that have blighted public works projects in Italy for decades.
Several top officials, including the Expo's former public procurement manager, were arrested last year and the event was placed under the oversight of the national anti-bribery authority to ensure transparency.
Buffeted by the scandals and facing disputes with architects and building contractors, Expo Commissioner Giuseppe Sala says construction work at the 110-hectare site on the outskirts of Milan will be essentially completed by opening day.
Xinhua - Reuters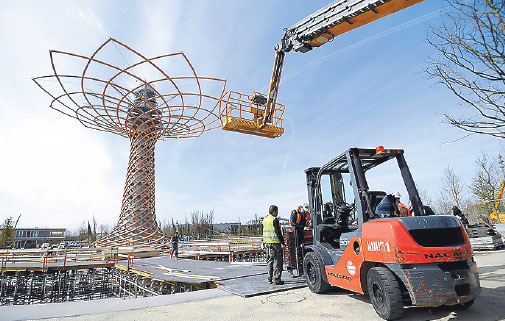 Workers running behind schedule stand near the 37-meter "Tree of Life" at the Milan Expo site. Giorgio Perottino / Reuters