Organ donors save lives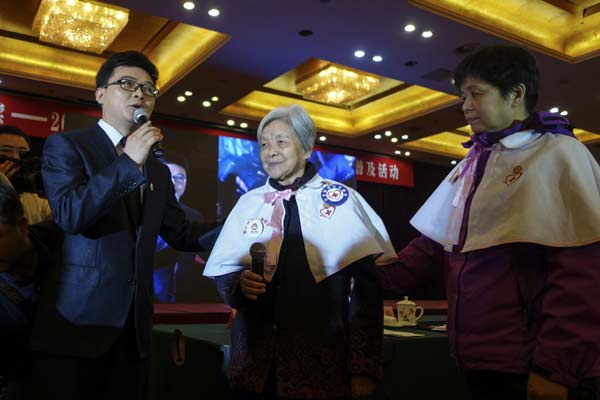 Gong Quanzhen, 92, a national role model and wife of the late Major General Gan Zuchang, attends an event promoting organ donation in Nanchang, Jiangxi province, in March. Xinhua
Demand for body parts far exceeds supplies, partly because people are unaware of options
Five people have lived on Yang Huaiyuan's donated body organs since he was pronounced brain dead on April 3 after an automobile crash.
The 39-year-old Sichuan man's heart, lungs, liver and kidneys were successfully transplanted and are currently functioning well in five patients from Sichuan, Fujian and Hubei provinces.
"He always liked to help others," said Yang's mother, Zhang Zun'e, who decided to donate her son's body parts after his death. "He would have approved of this."
Yang's body will help at least seven people, according to Deng Shaoping, president of the Sichuan Provincial People's Hospital.
Many Chinese people follow the tradition of keeping a body intact to ease the deceased person's reincarnation or to make the afterlife better.
But as the nation has developed, organ donation has become a more acceptable alternative, with encouragement from the government.
Last year, there were 1,700 donors giving more than 5,000 organs, exceeding the number of the previous five years combined.
Despite the increase, however, a vast gap remains in the organ supply - a gap that may continue to expand as demand for organs rises.
On Jan 1, China banned the harvesting of organs from executed prisoners, which had been a major source of transplants.
"Donors are too few. Usually a patient has to wait a year and a half or two years for a lung. Many die while waiting," said Chen Jingyu, a member of the Chinese Society of Organ Transplantation.
Still, Huang Jiefu, head of the National Human Organ Donation and Transplant Committee, said the ban on executed prisoners' organs, which aims to preserve justice and human rights, would not aggravate the organ shortage in the long run.
"The more respect we pay to prisoners on death row, the more citizens will donate their organs," Huang said.
Government data show that about 300,000 patients every year need organ transplants, while just more than 10,000 actually get such operations.
While a shortage of organs is primarily to blame, Huang said the high cost paid by recipients of donated organs for transplant surgeries is another contributor to the disparity.
Rather than traditions such as keeping a deceased person's body intact, poor administrative management is often the No 1 factor in the low donation rate, he said.
A poll conducted by Huang's committee found that more than 40 percent of those surveyed were not sure whether to donate organs. It found that one reason for the uncertainty is that people don't know how their organs will be used, Huang said.
"So it is vital to establish an open and transparent organ distribution system under which every organ can be traced back to the donor," he said.