Djokovic aims to maintain mastery
World No 1 cites fitness, confidence as keys to his success
Novak Djokovic, entering the 141st week of his career at No 1 in the world and fresh off a milestone fifth Miami Masters title, just wants to keep up the pace as long as he can.
"I'm trying to enjoy the moment and also utilize this time of my career. I'm feeling confident and physically fit," Djokovic said after Sunday's gritty three-set triumph over Andy Murray in the Miami final.
"I'm trying to use that. That's what I'm thinking about right now," added the 27-year-old Serb, who goes into the European clay-court season highlighted by the French Open having won the three biggest tournaments of the first quarter of the year: the Australian Open, Indian Wells and Miami.
"I am aware that this cannot go forever," Djokovic said. "There is going to be eventually a change of generations, some players that are going to start playing better and be stronger. But until that time comes I'm going to try to stay as long as I can on the top and fight for the biggest titles."
With 4,000 points separating him from No 2 Roger Federer, Djokovic is poised to finish atop the world rankings for the fourth time in five years. His 22nd ATP Masters victory is just one short of Federer's 23 on a list led by Rafael Nadal's 27.
Djokovic became the first player to sweep the back-to-back titles at Indian Wells and Miami for a third time.
He said it's the kind of achievement, fuels his ambition.
"Of course I pay attention of that," he said. "Any kind of achievement that goes into history books I'm hugely proud of and I appreciate it very much because I work hard for it and I cherish it."
Djokovic's victory in Melbourne was his eighth Grand Slam triumph and his first since becoming a father and husband last year.
He said having a family added a new dimension to his successes on court.
Calmness, self-belief
A rigorous fitness regime allows him to consistently play at a high level, while coach Boris Becker has helped him hone his mental game.
He needed all of his physical reserves in punishing heat and humidity against Murray, and after a second-set dip in his energy level he roared back for a 7-6 (3), 4-6, 6-0 triumph - his seventh straight win against the Scot.
"I managed to, again, rely on the energy supply that I have in my legs and my fitness to basically hold on and make it all the way through the match to play the third set the way I have played, like I haven't really been exhausted too much even though we played over 2 1/2 hours."
But fitness isn't everything, Djokovic said, especially on the game's biggest stages.
"Obviously tennis is an individual and very complex sport," he said. "It requires a right balance between the physical preparation and mental strength and emotional, I would say, calmness and self-belief.
"You kind of holistically need to approach it and be at your top"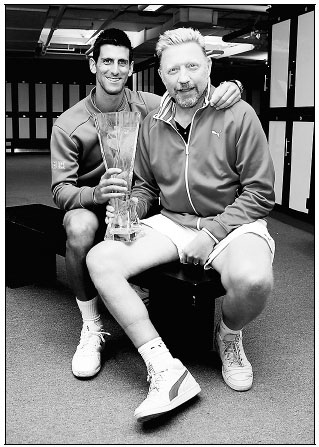 Novak Djokovic poses with his coach, Boris Becker, and the Butch Bucholz Trophy after his threeset victory over Andy Murray in Sunday's final of the Miami Open at Crandon Park Tennis Center on Sunday in Key Biscayne, Florida. Clive Brunskill / Getty Images / AFP