Confucius Institute opens fourth branch in Kenya
The first Confucius Institute that features textile industry expertise opened its doors on March 30 at Moi University in western Kenya's Eldoret.
The Confucius Institute at Moi University is the fourth such institution launched in the country. Kenya and South Africa each have four such institutions, the highest tally among any African country.
Moi University students and Chinese volunteers held several performances of dancing, singing, martial arts and ancient Chinese poetry at the launch ceremony.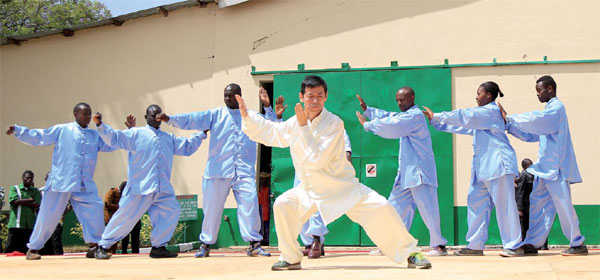 Moi University students and Chinese volunteers performed martial arts, ancient Chinese poetry, singing and dancing to mark the launch of a new Confucius Institute in western Kenya. Photos by Hou Liqiang / China Daily
In collaboration with Donghua University, the Confucius Institute will offer Chinese language and culture courses to Moi University students, Eldoret residents, and workers at the university's affiliated textile company Rivatex.
The Confucius Institute is an educational and cultural exchange organization established by the Office of Chinese Language Council International, colloquially known as Hanban.
According to official 2014 statistics, Hanban has opened 475 Confucius Institutes and 851 Confucius classrooms across 126 countries and regions worldwide.
There are 40 Confucius Institutes in more than 30 countries across the African continent.
Based in Shanghai, Donghua University is noted for its expertise in textiles and costume design, which was once a pillar industry in Eldoret. The Kenyan government has been trying to revive the textile industry in the western city.
"(The institute) will help the local textile and costume design industries to learn about China's textile technologies and experience," says Zhu Min, chairman of the Donghua University Council.
"Donghua University will organize professors specializing in textiles and costume design to be based at the Confucius Institute."
Currently, about 300 students and workers in Eldoret are enrolled in language courses at the institute.
Maureen Wambui, a hospitality major student at Moi University, says learning Chinese might secure her a better job in the future.
"I prefer (a job at) a Chinese restaurant or hotel, and we already got one here in Eldoret. I also want to make Chinese food and know something about Chinese tea culture," she says.
Donghua University has enrolled African students since 1953. From 2001 to 2014, 1,107 African students, including 74 from Kenya, studied at the university.
"Donghua University, which takes the lead in China's textile technology, has its own advantages in textile science and engineering, while Moi University also specializes in textile science, with Rivatex being a key project that enjoys great support from the Kenyan government," said Chinese counselor Yao Ming at the launch ceremony.
Yao said he hopes both sides could work together to create a model for Sino-Kenyan industrial cooperation while promoting cultural and people-to-people exchanges between the two countries.
"By learning Chinese, we can be well-equipped to communicate on travel missions or other official visits," said Jackson Mandago, governor of Uasin Gishu county, where Eldoret is located.
"I hope Donghua University will also be an ambassador for tourism for the North Rift Valley and western part of Kenya."
The first Confucius Institute in Africa was founded in 2005 in Kenya's University of Nairobi in cooperation with Tianjin Normal University.
That Confucius Institute at the University of Nairobi each year enrolls about 400 students. Its cultural activities have attracted about 6,100 students, according to the institute. It also offers a master's course in teaching Chinese and plans to begin offering a PhD course in teaching Chinese this year.
houliqiang@chinadaily.com.cn