New agreements give a lift to Uganda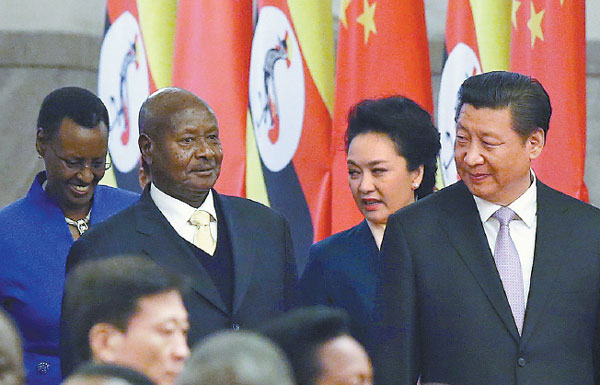 President Xi Jinping and first lady Peng Liyuan take part in the welcoming ceremony for visiting Ugandan President Yoweri Kaguta Museveni (second from left) and his wife Janet Museveni (far left) at the Great Hall of the People in Beijing on Tuesday. Xu Jingxing / China Daily
Visiting President Museveni calls China a reliable friend of Africa, welcomes added help
China threw its weight behind Uganda on Tuesday as the two countries signed eight agreements in Beijing, half of which allow China to extend concessional loans to improve the African nation's infrastructure and its communication sector.
The agreements will lead to closer economic ties, as well as help Uganda to build up its industrial skills and to expand and upgrade Entebbe International Airport, which is located southwest of the capital's central business district.
Both countries can strengthen cooperation in areas including infrastructure, investment, medical care and tourism, President Xi Jinping told Uganda's President Yoweri Museveni in a meeting before they witnessed the signings.
China is willing to share its experience in developing special economic zones and industrial parks, as well as encourage and support the involvement of Chinese enterprises in Uganda's industrial and agricultural development, Xi said.
Uganda's economic growth is set to accelerate to 5.3 percent in fiscal 2014-15, driven by infrastructure investment aimed at maximizing benefits from an expected oil boom, Reuters quoted a Ugandan official as saying in March.
For decades, China has been a supporter of Uganda's development and a leading contractor in projects from housing to roads and bridges. Two-way trade reached $520 million in 2013.
Calling China a reliable friend of Africa, Museveni said Uganda hopes to see closer cooperation in standard-gauge railways and hydroelectric development.
He also called for support from the Chinese government for bilateral cooperation in oil, mineral resources, tourism and industrial parks.
According to The Diplomat, a Tokyo-based current-affairs magazine for the Asia-Pacific, "Uganda has been steadily turning toward China".
China is becoming Uganda's preferred trade and investment partner, and Chinese investment has supported an African rail line linking Rwanda, Uganda and Kenya, with exports to be made through Mombasa, Kenya's second-largest city. China is also financing 85 percent of two hydroelectric projects in Uganda, the magazine reported last year.
In a separate meeting on Tuesday, Premier Li Keqiang told Museveni that China wants to establish a railway network in East Africa by working together with countries in that region.
China will also offer assistance in the construction of large projects such as airports and hydropower stations, Li said.
Deng Yanting, a researcher in African studies at the Chinese Academy of Social Sciences, said the cooperation with Uganda refutes allegations that China is only interested in acquiring African resources.
It also shows Beijing's growing ties with inland Africa, not just traditional partners like coastal Kenya, Deng said.
Museveni is scheduled to conclude his fifth visit to China on Wednesday. During the six-day trip, he attended the annual Boao Forum for Asia in Hainan province over the weekend.
Zhao Yinan contributed to this story.
Contact the writer at zhaoshengnan@chinadaily.com.cn