Former PM Olmert convicted of corruption
His office manager provided evidence, including tape recordings, about taking illicit cash
Retried on corruption charges, former Israeli prime minister Ehud Olmert was found guilty on Monday of accepting bribes. It was the latest chapter in the downfall of a man who once hoped to lead the country to a historic peace agreement with the Palestinians.
Olmert, who already faces a six-year prison sentence in a separate bribery case, will be sentenced on May 5.
Olmert's lawyers said they would likely appeal the ruling by the Jerusalem District Court.
Olmert, 69, has claimed he was on the brink of a historic agreement with the Palestinians when he was forced to resign in early 2009 amid corruption allegations. His departure cleared the way for hard-liner Benjamin Netanyahu's election, and subsequent peace efforts have not succeeded.
Olmert was acquitted in 2012 of a series of charges that included accepting cash-stuffed envelopes from US businessman Morris Talansky when Olmert was mayor of Jerusalem and a Cabinet minister.
Olmert was found to have received about $600,000 from Talansky during his term as mayor, and additional amounts in cash during his term as a minister, but no evidence was found that the money was used for unlawful personal reasons.
The acquittal on the most serious charges at the time was seen as a major victory for Olmert, who denied being corrupt. He was convicted only on a lesser charge of breach of trust - for steering job appointments and contracts to clients of a business partner - which raised hopes for a political comeback.
But Olmert's former office manager and confidant Shula Zaken later became a witness against him, offering diary entries and tape recordings of conversations with Olmert about illicitly receiving cash. That information led to the retrial.
In the recordings, Olmert is heard telling Zaken not to testify in the first trial so she would not incriminate him.
On Monday, a panel of judges at the Jerusalem District Court ruled that Olmert had accepted $153,950 from Talansky when he was a Cabinet minister, with the money kept hidden by an Olmert aide in a safe.
The judges concluded that Olmert gave Zaken part of that money in exchange for her loyalty, and used it for his own personal purposes without reporting it according to law. They called the exchange of money for favors to Talansky, a "serious conflict of interest" and convicted Olmert on charges of fraud and breach of trust.
Olmert's lawyer, Eyal Rozovsky, said Olmert's legal team was "of course very disappointed from the ruling" and said his lawyers will review it and likely appeal.
The conviction again stoked anger in Israel. "I want to Ehud Olmert to apologize to the people of Israel," columnist and former Olmert confidant Dan Margalit said on Israel Radio on Monday.
Separately, Olmert was convicted in another bribery trial in March 2014, and sentenced to six years in jail. He appealed and has been allowed to stay out of prison until a verdict is delivered.
AP - AFP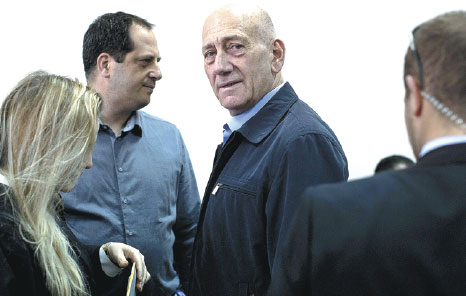 Former Israeli Prime Minister Ehud Olmert (center) waits to hear his verdict at Jerusalem District Court on Monday. Olmert, already facing a six-year prison term for a corruption conviction, was found guilty in a separate case of accepting illegal payments from a US businessman. Abir Sultan / Reuters Pool Photo