Politician seeks Chinese investment for rural Kenya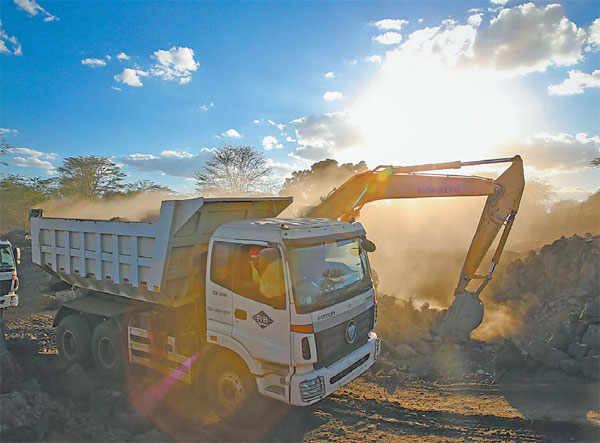 In for the long haul: A truck waits at a quarry to pick up stones on section six of Kenya's Standard Gauge Railway project, near Makueni, Kenya, on March 17. The project, expected to cost $3.8 billion, involves building a 480-kilometer railway line from the port city of Mombasa to the capital city, Nairobi. China Roads and Bridges Corporation is carrying out the project. Pan Siwei / Xinhua
Former Kenyan Prime Minister and Orange Democratic Movement leader Raila Odinga is in China for an eight-day visit.
Odinga is scheduled to meet potential Chinese investors in a bid to attract investment in rural Kenya. The visit follows his tour of India in January, when he met more than 20,000 traders in Hyderabad as part of a similar move to woo investors.
According to a press statement from the ODM's Director of Communication Philip Etale, the tour is aimed at matching Chinese investment interests with opportunities in the country in an effort to balance bilateral trade between the two countries.
The former prime minister is also expected to hold a series of meetings with the China-Africa Joint Chamber of Commerce and Industry, the China Overseas Agricultural Development Alliance and the China Chamber of Commerce of Metals, Minerals and Chemicals.
Other companies and organizations that officials will meet include the China Foreign Economic Corporation Center for Agriculture Technology, China Machinery Engineering Corp, the China Overseas Agriculture Development Alliance, the Hydro-China International Engineering Co, Power-China International Engineering Co, the Southern Fujian Chamber of Commerce, the International Charity Organisation and China Africa Project Hope.
Kenya's Kakamega County government, which is being represented in China by Gov (first name??) Oparanya, has already engaged the Chinese government and companies in several development projects. A Chinese company is set to construct 9,000 low-cost housing units in Amalemba area of Kakamega County.
The governor signed a KSh4.5 billion deal($49 million) with Henan Guoji Development Corp last year to construct the housing units in three phases.
China Daily held an exclusive interview with Suileman Sumba, then the Kakamega County executive member in charge of lands and urban planning, shortly before the governor departed for China. Sumba has since been transferred to another post, but said the county government was "still very much committed to realizing the housing project in the town despite a few hitches".
"Although the Public Private Partnership Act has not favored such an ambitious project, our Chinese partners have gone back to the drawing board to consult and will be back to finish the project," he said.
Sumba said the first phase will have 3,000 two- and three-bedroom houses built at a cost of KSh1.5 billion to be sold to civil servants. The second phase will be reserved for the public, while the last phase will be for rentals and solely owned by the Chinese company, which will pay a fixed annual fee to the county government.
The Kakamega County government also sent delegations to China seeking funding to upgrade the Kakamega General Provincial Hospital into a major referral hospital.
China Jiangxi Corp is now finishing construction work on a hospital at Kenyatta University's main campus in the suburbs of Nairobi County.
Expected to have oncology and gerontology units among several others, the hospital is almost complete. The university administration sent a team to China last December to source hospital equipment.
In 2012, the Chinese and Kenyan governments equipped the Shamberere Technical Training Institute in Kakamega with workshop equipment worth KSh389 million. The state-of-the-art equipment has revolutionized learning at the technical institute, said administrators.
Etale released a statement on March 25 that said the opposition leader had already sealed a multibillion Kenyan shilling deal with China overseas Agricultural Development Alliance to provide Kenyan farmers with farm machinery and products.
For China Daily