Sino-Kenya trade volume rises by 53 percent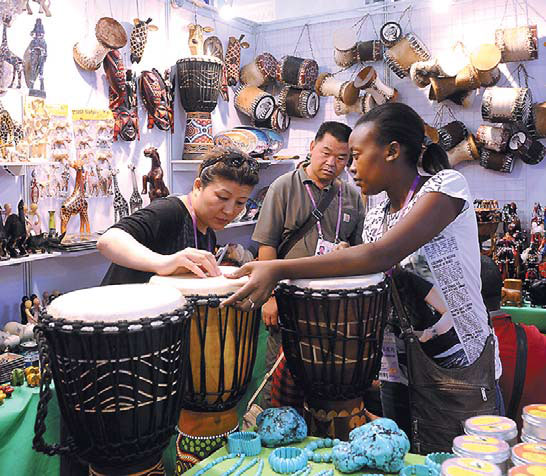 A businesswoman from Kenya promotes her products to Chinese customers at the China and Import and Export Fair in Guangzhou in 2014. Provided to China Daily
Bilateral trade volume between China and Kenya rose by 53 percent in 2014, according to Chinese ambassador to Kenya Liu Xianfa.
Speaking to journalists in Nairobi, Liu said signed agreements between the two countries last year rose by 10.2 percent to reach a high of $592 million.
The 50-year bilateral relationship between the two countries has been on a healthy trajectory, blossoming in the last 10 years and catapulting China to become the largest trading partner of the East African powerhouse.
Last year, Premier Li Keqiang visited Kenya on his African tour, and together with Kenyan President Uhuru Kenyatta, signed over 20 cooperation agreements between China and Kenya.
In the last 10 years, China has funded more than 80 development projects in Kenya, with the most significant one being the Standard Gauge Railway project from Mombasa to the capital, Nairobi. Other projects include the Eastern Bypass Project, the Northern Bypass Project and the Thika Super Highway.
Chinese contractors have also been awarded several lucrative contracts in the country to expand existing roads and airports and construct hospitals, schools, bridges and malls. The Chinese contractors have developed a reputation for finishing projects before the expected date of completion.
China Road and Bridge Corp, Sinohydro Tianjin Engineering Co, Ltd, and Henan Gounji Development Co Ltd are some of the contractors who have set up offices in the country and have or are in the process of undertaking major infrastructure projects in the country.
China National Aero-Technology International Engineering Corp is the latest contractor to land a major infrastructure project in Nairobi. The contractor is building what is tipped to be the largest shopping mall in East Africa, high-end apartments and office blocks within the 40.5-hectare piece of land located along the Northern Bypass in Nairobi County, some 10 minutes from the United Nations office in Gigiri.
Centum Investment Group is behind the KSh17 billion ($0.19 billion) real estate development that will occupy 62,000 square meters, eclipsing the upcoming Garden City Mall along the Thika Super Highway, which also covers an expansive 50,000 square meters. The mall is expected to open in October this year and international stores such as Carrefour Franchises are expected to open in the mall.
The French company, with a presence in over 30 countries worldwide, is the leading retailer in Europe and the second-largest retailer in the world. The company has been expanding its network in Africa and the Two Rivers Project presents the perfect opportunity for it to enter the East African market.
For China Daily