Silk Road perspective of a China hand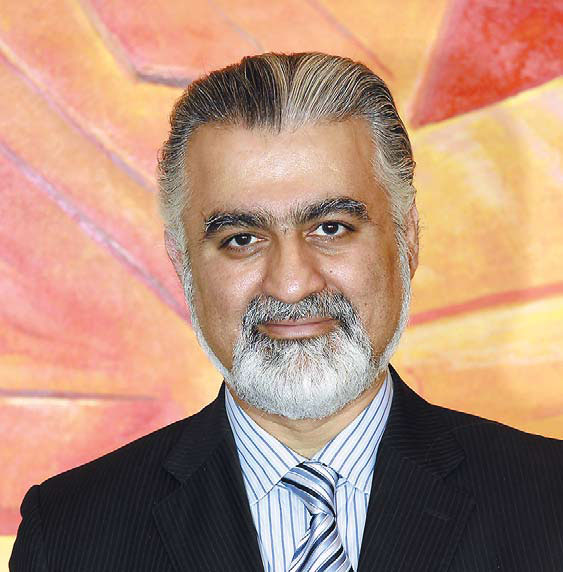 Strategist and investor sees many benefits for Europe and developing countries
European countries, as well as other nations, should embrace China's national strategy of reviving the ancient Silk Road, as they could also benefit from the projects, initiatives and exchanges it creates, says the world-renowned American strategist and investor Farzam Kamalabadi.
The Persian American who has lived in Shanghai since 1992, says that the "Belt and Road" initiatives put forward by Chinese President Xi Jinping bring numerous opportunities for developing countries and European ones too.
The Silk Road Economic Belt and the 21st Century Maritime Silk Road, as the initiatives are officially termed, are a land-based route from China via Central Asia and Russia to Europe, and a strategic path though the Strait of Malacca to India, the Middle East and East Africa. The initiatives began to take shape in 2014 with a focus on infrastructure.
"With their advanced technology, capital and experience in management and quality, European countries could cooperate with China in implementing the sweeping initiatives," Kamalabadi says.
"If the Western countries ignore or underutilize China's proactive initiatives, they will lose another decade if not more."
As one of the very few foreigners widely recognized by both the Chinese media and government leadership, Kamalabadi is deemed to be a true "China Hand" for his wide and deep knowledge of the country. He reads and writes Chinese, including writing quality brush calligraphy. Moreover, he speaks Mandarin as well as a number of other dialects such as Cantonese.
In 1993, he established the Future Trends International (Group) Corporation, a China-specialist US corporation engaged in investment and trade, project implementation, media relations, and government lobbying.
Eight years ago, Kamalabadi put forward the proposals of "China -Central Asia - Middle East economic corridor" and "China - Central Asia - Middle East cultural passage", suggesting that the Chinese government should revive the ancient Silk Road.
"If China could fully and smoothly implement the Belt and Road initiatives, about 70 to 80 percent of the world's population will benefit directly and the whole world order will be better united," he says. "It's a great win-win strategy."
According to Kamalabadi, Western countries should break the ideological barrier, overcome traditional fears and act positively to assist with and participate in China's process of emergence into the world community and various positive initiatives such as Belt and Road projects.
With decades of reform and development maturing, China has become a safe and ideal business partner with trillions of dollars in foreign reserves, advanced technology in many fields, and huge capacity in manufacturing and innovation, he says.
"China is going West, but the Western world is still doubtful about China's sincerity. The countries, mostly having religious belief and moral ideals, including Christianity and Islam, remain unclear about China's values, motives, practices and in total whether China is a reliable partner and responsible stakeholder or not."
To them, the ancient and poetic name of China, Shen Zhou, the Divine Land, can present a new image of China as equally prompted by ideal motives, high integrity, and faith, he says. Moreover, China's national strategy for Western expansion should become an invitation and for multilateral cooperation and universal participation, which must be coupled with consultation.
"For example, when local Chinese authorities hold forums and seminars themed on Belt and Road projects, they should also invite mayors and their counterparts from foreign countries to attend in mutual exchange," he says.
As an ancient country that values peace and hospitality, China should explain itself to the Western world by different means, thus assuring that what China brings is positive contributions and opportunities, not intrusions or threats, he says.
"However, China and its numerous participants must also do their homework well, and must be cautious in carrying out the Belt and Road projects in an orderly, organized, well trained and well educated, and culturally informed manner, paying attention to all the sensitivities they must consider, practicing the spirit of genuine best business practices and a true win-win attitude and game play, or the nationally well intended peaceful initiatives could be misunderstood and even boycotted by other countries."
It is not the first time that Kamalabadi has advocated China's peaceful development and global destiny. In 1999, he wrote the proposal "China Peace versus China Threat", which was endorsed and signed by then president Jiang Zemin, then premier Zhu Rongji, and other senior leaders, and became one of the main guidelines of China's domestic and foreign policies.
In the process of reviving the trade routes, China could take the first step by improving its infrastructure, including railways, airports and ports, along the routes, he says.
As part of the initiatives, China opened a new rail route to European countries to transport made-in-China products, from laptops to Airbus parts, and made-in-Europe baby formula and wines in mid 2013.
Starting from Zhengzhou, a logistics center and transport hub in Central China's Henan province, the 10,214-kilometer Zhengzhou-Europe International Shuttle Train crosses the border at the Alataw Pass in Xinjiang before passing through Kazakhstan, Russia, Belarus and Poland on its way to Germany's Hamburg.
The new intercontinental rail route can save about 20 days compared with maritime transport and costs 80 percent less than air shipment. The 15-day journey offers an alternative to slower and riskier sea freight and much costlier air cargo.
"It's good news that China has deepened its ties with European countries through the new rail routes." Kamalabadi says. "It is yet another positive step towards a more interconnected and unified world."
The city of Kashgar, in Northwest China's Xinjiang Uygur autonomous region, should be a transitional center for the China-Europe rail route, he says.
China still heavily relies on sea freight in its trade with Europe, and railways allow companies to avoid passing through the risky maritime routes.
Among the 110 million tons of goods exported to 13 major European countries in 2012, about 78 million were suitable for railway transportation. However, only 1.5 percent of trade volume was achieved via the railway, according to research by the China Railway Corporation.
China is now in negotiations about high-speed rail with at least 28 countries, most of which are located along the trade routes. The total track length on the agenda spans over 5,000 kilometers, according to Hua Chang Securities.
According to a proposal filed by the China International Economic and Exchange Center, a government think tank, Chinese companies are expected to build more than 20 railways over in the coming years as an effort to revive the ancient trade routes.
Through railways, China could export its goods, equipment, and technologies to the countries on the routes, which will benefit the local economy, Kamalabadi says.
To finance the Belt and Road projects, capital from around the world, including those from the affluent Gulf Cooperation Countries should be welcomed by Chinese government, he says.
On Feb 16, China's central bank announced that the Silk Road Fund, which aims to seek investment opportunities and provide monetary services throughout the Belt and Road initiatives, was active.
President Xi Jinping announced the creation of the $40 billion fund in November. It will invest mainly in infrastructure, resource development, as well as industrial and financial cooperation, in an effort to achieve common development and prosperity.
According to Kamalabadi, China's strategy of reviving the ancient Silk Road has provided a good chance for the exchange and communication of different cultures and civilizations, including between Confucius and Buddhist China and Asia, the Islamic Arabs and Persians, and the Christian West.
Mankind has experienced three regional macro phenomena since ancient times, he says. The first was the discovery of the American Continent and the second was the European Renaissance. The third, which will change the destiny of people all over the world, is China's internal reforms and external integration into the world.
"The world should welcome with warm jubilation China's positive globalization process, since it brings much contribution and opportunities," he says.
In this regard, Kamalabadi quotes the visionary Prophet Baha'u'llah's history shaping words over one and a half centuries ago: "The earth is but one country and mankind its citizens."
Contact the writers through anbaijie@chinadaily.com.cn
Bio
Farzam Kamalabadi
President and Chairman of the Board, Future Trends Group
Age: 54
Education and clerkships:
1979, University of Massachusetts Boston, major in economic theory
1982-84, Harvard University, studying Chinese
1984-86, International Banking, BayBank, Harvard Trust
1987-92, leading numerous cultural and business delegations and exchanges including organizing the first visit of Eskimos and The Lakota Sioux Native American tribal leaders to China
1993, establishing Future Trends International (Group) Corporation
1999, raising the "China Peace Theory"
2003, putting forward the theory of "China's peaceful rise" and "Harmonious society"
2006-present, market positioning instrumental in historic landmark deal of first ever GCC Sovereign Wealth Funds club investments into ICBC, then Agricultural Bank, and so on.
Books: Divine Civilization, Chinese and Hieroglyphic Calligraphy; The Furnace of Fire, a collection of Persian classic poetry and sonnets in Tehran, Iran
Publicly awarded titles:
"Most Influential Foreign Figure in Modern China" by numerous media.
"A Pen From God" by China Satellite TV.
"Top 100 Influential Asian Artists" by Asian Art Expo.
The Only Foreign Master Calligrapher in the world and in history, in Han Chinese & Hieroglyphic Ancient Scripts Calligraphy.
Works of art exhibited in Salon D'Automne China Exhibition and all over China, auctioned in Chelsea Art Building in New York and many cities all over China, collected by national leaders of China and royal families globally. Featured on CCTV and other Chinese media; and the only foreigner cited in China National Studies List of 6000 Top China Artists.