Harrison Ford crash-lands on golf course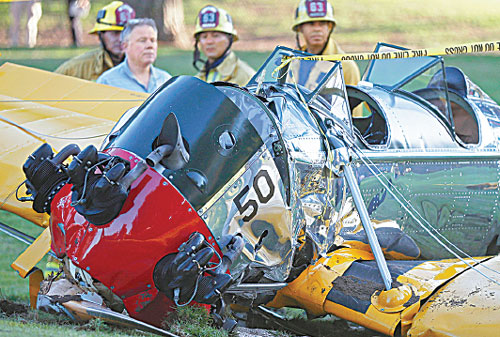 Harrison Ford's airplane sits on the ground after crash-landing at Penmar Golf Course in Venice, Los Angeles, on Thursday. The film star was seriously injured after ditching his vintage plane on the course shortly after taking off from a local airport. Lucy Nicholson / Reuters
Film star Harrison Ford crash-landed his World War II-era airplane after losing engine power, suffering serious but not life-threatening injuries as he used his years of experience as a pilot to avoid nearby homes.
The landing on a Los Angeles golf course was described by one expert as a beautifully executed maneuver.
It was the latest and most serious in a series of crashes and close calls for the 72-year-old action-adventure A-lister, who like his Star Wars alter-ego, Han Solo, has a taste for aerial thrills. He was pulled from the plane on Thursday by golfers and course workers who saw it come down 400 meters short of the runway at Santa Monica Municipal Airport and taken by ambulance to a hospital conscious and breathing.
He was given initial help by doctors who happened to be playing golf on the course, fire officials said. He was then taken by ambulance to a hospital in a condition described as fair-to-moderate.
Ford's publicist, Ina Treciokas, said in a statement that Ford had no other choice but to make an emergency landing. She said his injuries "are not life-threatening, and he is expected to make a full recovery".
Ford took off from the airport at 2 pm. About 20 minutes later, he told the tower he had engine failure and was making an immediate return, according to a recording posted by the website LiveATC.net.
The plane had been flying at 915 meters and hit a tree on the way down, witnesses said.
The yellow 1942 Ryan Aeronautical ST3KR with stars on its wings was upright and mostly intact after the crash. No one on the ground was hurt.
"I would say that this is an absolutely beautifully executed - what we would call - a forced or emergency landing, by an unbelievably well-trained pilot," said Christian Fry of the Santa Monica Airport Association.
Charlie Thomson, a flying instructor at the airport who saw Ford take off, said engine failure does not make the plane harder to maneuver.
"It just means you have to go down," he said.
Ford had a cut to his forehead and scraped arms, but it was not clear what internal injuries he may have had, Los Angeles Assistant Fire Chief Patrick Butler said. "He wasn't a bloody mess. He was alert. He had good vitals," he added.
Ford, best known as archaeological adventurer Indiana Jones in Raiders of the Lost Ark and its sequels, got his pilot's license in the 1990s and has made headlines with his flying before, though he had never been significantly injured doing it.
In 2001, he rescued a missing Boy Scout with his helicopter. Nearly a year before, he rescued an ailing mountain climber in Jackson, Wyoming.
In 2000 in Lincoln, Nebraska, a gust of wind sent a six-seat plane Ford was piloting off the runway. He and his passenger were not injured.
AP - Reuters