Anbang buys another piece of Manhattan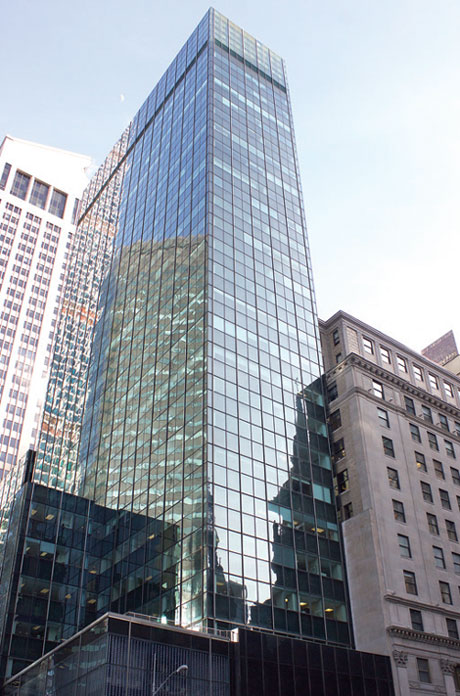 China-based Anbang Insurance Group has reportedly purchased the office tower at 717 Fifth Ave for between $400 million and $500 million. Hong Xiao / For China Daily
China-based Anbang Insurance Group's purchase of an office building in New York City, reportedly for between $400 million to $500 million, is in one of Manhattan's most desirable areas, according to real estate executives.
The nearly 500,000 square-foot office tower is at 717 Fifth Avenue on East 56th Street, known as the Plaza District because of the nearby Plaza Hotel. Anbang's deal is for 22 floors of the 26-story building above retail space along Fifth Avenue, which is separately owned and used by luxury fashion brands Dolce & Gabbana and Armani.
Anbang acquired the property from the New York-based Blackstone Group LP, a private-equity firm, Crain's New York Business reported on Feb 18. The purchase price wasn't disclosed, but Bloomberg News reported it could approach between $400 million and $500 million.
"The district between 5th and 6th Avenues has been desirable forever, and it's becoming more desirable," Howard Dolch, executive vice-president of the New York-based Lansco Corporation, said in an interview. "The Crown Building just sold for a record-setting number, so international investor money is attracted to 'Class A' property. It's as simple as that."
The retail and office space in the Crown Building -one block north and approximately 80,000 square feet smaller than 717 Fifth Avenue - sold for $1.75 billion.
Alan Victor also an executive vice-president with Lansco, said foreign buyers are going after top-of-the-line properties in the US, like Anbang's purchase of the Waldorf Astoria New York hotel in October.
"That's what's going on in the market," Victor told China Daily in an interview. "Usually investments are made on a long-term return basis, so some are willing to pay more in the sale and then wait for the market to catch up with them."
Nearby stores to the property acquired by Anbag include Tiffany & Co, Gucci, Abercrombie & Fitch and jeweler Harry Winston. Some of the tenants at 717 Fifth Avenue include Bank of America Merrill Lynch, JC Flowers & Co, a private-equity firm and Island Capital Group, an international real estate merchant bank.
A representative from Blackstone declined to comment, and Anbang representatives could not be reached for comment.
Anbang is a leading Chinese insurance company that was founded in 2004 and is based in Beijing. The company has made a number of high-profile purchases in the past several months, including a $1.95 billion deal with Hilton Worldwide Holdings Inc for the famed Waldorf Astoria hotel. The price is the largest ever paid for a US hotel, according to research group Lodging Econometrics.
The privately held insurer is entertaining an initial public offering, which could garner as much as $2 billion, according to Bloomberg News.
Ted Li, executive director of capital markets for Cushman & Wakefield Inc, told China Daily that Anbang's series of international acquisitions is helping the company position itself as a global giant with multiple investments in insurance and real estate.
Li said many Chinese companies have encountered a number of problems in the process of globalization, including cultural conflicts and lawsuits, which Anbang might also face.
"Chinese companies should be more familiar with the foreign rules of regulations and respect local culture when they expand overseas," he said.
An Baijie in Beijing contributed to this story.
Contact the writers at anbaijie@chinadaily.com.cn and jackfreifelder@chinadailyusa.com.