Chinese expert sheds light on monk's mummified remains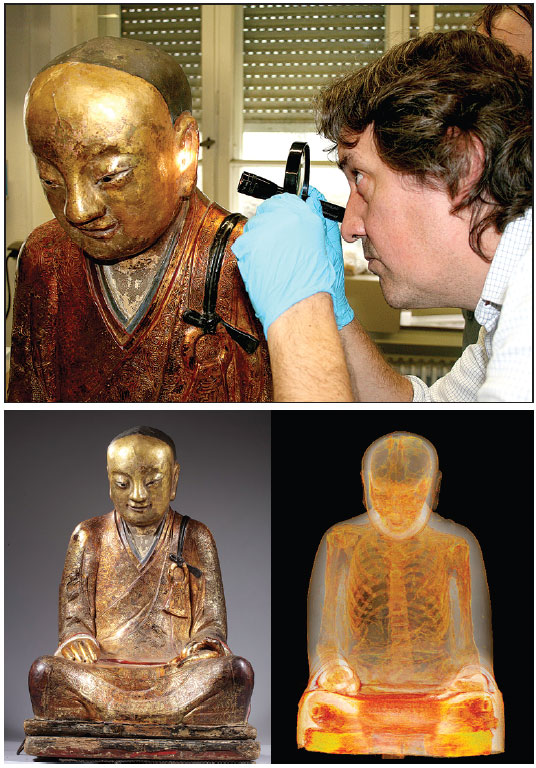 A researcher studies a hole in the ear of a Buddha statue dating to the 11th or 12th century at the Drents Museum in the Netherlands. The mummified remains of a monk were found encased inside the statue. Photos Provided by The Drents Museum
The reason the mummified remains of a monk found encased in a Buddha statue have received so much attention and even caused surprise may be due to a lack of understanding of Buddhism, according to a Chinese expert.
The remains, minus organs, were found in a statue dating to the 11th or 12th century.
The fact the organs were missing is nothing out of the ordinary, according to Master Zengqin, vice-chairman of the China Buddhism Association and abbot of Da Ci'en Temple in Xi'an, Shaanxi province.
Britain's Daily Mail newspaper said Erik Bruijn, a Buddhism expert, led the study that determined the mummy was of Buddhist master Liuquan, from the Chinese Meditation School.
A CT scan and endoscopy on the remains were carried out by the Drents Museum at Meander Medical Centre in the Netherlands.
Master Zengqin said that when monks who have made great achievements are about to die, they stop eating and drinking to deplete their organs.
"The remains will mummify - as opposed to being removed by humans," said the head of the temple where Master Xuanzang (599-664 AD) translated Buddhist classics he brought back from India.
After the scan, the remains were taken to Budapest, where they are on display at the Hungarian Natural History Museum until May before being taken to Luxembourg. They had been on display at the Drents Museum for the past year.
Master Zengqin said that monks with great achievements can usually sense their deaths and will start advanced meditation in the lotus position, while refraining from eating or drinking.
After a monk dies, he is buried sitting in the lotus position in a clay vessel. The preserved body is decorated with paint and adorned with gold.
"There are many Buddhist mummies in China, such as at Mount Jiuhua," he said, referring to the peak in Anhui province.
Having read the story and seen accompanying photographs, Master Zengqin said the face of Liuquan's mummified remains might have been painted.
"No chemicals have ever been used to preserve monks' remains," he said.
luowangshu@chinadaily.com.cn