City upbeat on eve of Barca clash
5-0 thrashing of Newcastle the best tonic before crucial last-16 Champions League encounter at home
Contrasting weekend results have given Tuesday's Champions League last-16 reunion between Manchester City and Barcelona at the Etihad Stadium a different allure to what might have been expected only days ago.
Barcelona, 4-1 aggregate victor when the teams met at this stage last year, had found scintillating form since a l-0 loss to David Moyes's Real Sociedad on Jan 4, winning its next 11 games in all competitions.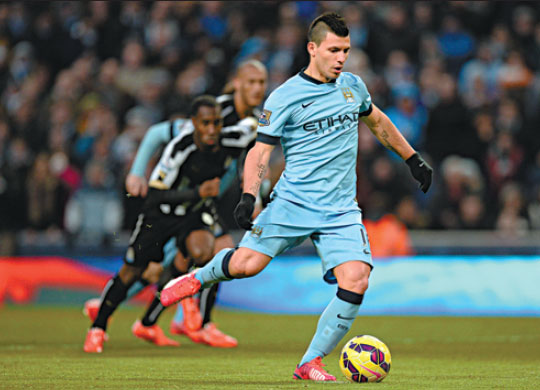 Manchester City's Argentine striker, Sergio Aguero, scores his team's first goal, from the penalty spot, during the Premier League against Newcastle at Etihad Stadium on Saturday. Oli Scarff / Agence France-Presse
But that run came to a shuddering and unexpected halt on Saturday when it lost 1-0 at home to Malaga in La Liga after a lackluster performance completely out of keeping with recent displays.
About 40 minutes after the final whistle sounded at Camp Nou, City set about constructing a 5-0 victory at home to Newcastle United that allowed it to cut Chelsea's lead in the Premier League to five points.
Following on from a 4-1 win at Stoke City, which had seen the English champion end a four-game winless run, the stylish victory, inspired by David Silva, provided further proof that its mid-winter slump has ended.
For City manager Manuel Pellegrini, it was a sign his side is once again a "scoring team", but for all the optimism the performance engendered, it will not erase memories of what happened the last time Barcelona crossed his path.
Both games last season followed similar patterns, with Lionel Messi twice opening the scoring, Dani Alves twice adding a late goal, and City twice having a defender sent off - Martin Demichelis in the first leg and Pablo Zabaleta in the second.
Demichelis's dismissal at the Etihad, for a last-man foul on Messi that yielded a penalty from which the Argentine put Barcelona ahead, left Pellegrini apoplectic and he was given a two-game touchline ban by UEFA for accusing Swedish referee Jonas Eriksson of impartiality.
But while Vincent Kompany's late goal in the return leg meant City belatedly landed a blow on its opponent, there were few complaints about the aggregate scoreline.
Toure suspended
"It is important not to make the mistakes that we made last year," said Pellegrini, whose club has never reached the quarterfinals.
"In both those games we played with one player less. In the knockout stage you have to not concede goals, and with a player sent off it is very difficult. You have to think of the match as being 180 minutes, not 90."
Now under the tutelage of Luis Enrique, Barcelona is much-changed, with the team configured to move the ball as quickly as possible to a devastating front three of Neymar, Luis Suarez and Messi, who has already scored 14 goals in 2015.
When Barcelona has come unstuck this season, as against Malaga and Real Sociedad, it has tended to have been when teams have scored early against it and then defended en masse, but defender Gerard Pique believes City will not approach the tie so cautiously.
"It is one of the games of the year, the most important until now," said the former Manchester United centerback.
"They will try to attack us and that suits us. It has been proven over the past few months that we are better against teams that attack us because we can counter-attack."
The host will be without Yaya Toure as he completes a three-game ban, but City's group-stage great escape - a stirring 3-2 win against Bayern Munich, in which Sergio Aguero scored a hat-trick, and a 2-0 victory at Roma - was orchestrated without the giant Ivorian in its ranks.
With James Milner expected to return from a knee injury and January signing Wilfried Bony in line for his Champions League debut, City is otherwise at full strength but Aguero, Zabaleta, Gael Clichy and Edin Dzeko are all one booking away from suspension.
Barcelona's group-phase progress was rather more serene, despite a 3-2 loss at Paris Saint-Germain, and its only absentees are long-term injury victims Thomas Vermaelen and Douglas.
Key facts
Facts about Manchester City and Barcelona ahead of the Champions League last 16, first-leg tie between the clubs on Tuesday:
Form:
City has recovered from a stuttering run of five games without a win that saw it slip seven points behind Chelsea at the top of the Premier League and lose in the FA Cup fourth round to Middlesbrough.
A 4-1 victory at Stoke City was followed by a 5-0 romp against Newcastle United at the weekend as it trimmed Chelsea's lead back to five points. The latter game saw Yaya Toure return and January signing Wilfried Bony finally make his debut for the club after both came back from helping Cote d'Ivoire win the Africa Cup of Nations.
Toure misses the tie as he completes a three-game ban. While it has found its form again, Barcelona slumped to an untimely 1-0 defeat at home to Malaga on Saturday that damaged its title hopes in La Liga. That result ended a stunning run of 11 straight wins in all competitions, in which it had scored 42 goals.
Coaches:
· Manchester City: Manuel Pellegrini (CHI) - 61 years
· Barcelona: Luis Enrique Martinez Garcia (ESP) - 44 years
Leading scorers in all competitions:
· Manchester City: Sergio Aguero (22 goals)
· Barcelona: Lionel Messi (37 goals)
Domestic league performance:
· Manchester City: Second in English Premier League, five points behind leader Chelsea but seven ahead of Arsenal in third
· Barcelona: Second in La Liga, four points behind Real Madrid and three ahead of reigning champion Atletico Madrid in third
Group stage performances:
· Manchester City: Second in Group E behind Bayern Munich
· Barcelona: Winner of Group F ahead of Paris Saint-Germain
European Cup/Champions League best performances:
· Manchester City: round of 16 2013-14
· Barcelona: winner 1992, 2006, 2009, 2011
Other honors:
· Manchester City: 4-time English champion, 5-time FA Cup winner, 3-time League Cup winner, 1-time Cup Winners' Cup winner
· Barcelona: 22-time Spanish champion, 26-time Copa del Rey winner, 4-time Cup Winners' Cup winner, 3-time Inter-Cities Fairs Cup winner, 2-time Club World Cup winner, 1-time Intercontinental Cup winner
Previous meetings:
· Manchester City 0-2 Barcelona - 2013-14 last 16, first leg
· Barcelona 2-1 Manchester City - 2013-14 last 16, second leg