Temple fairs remain a firm favorite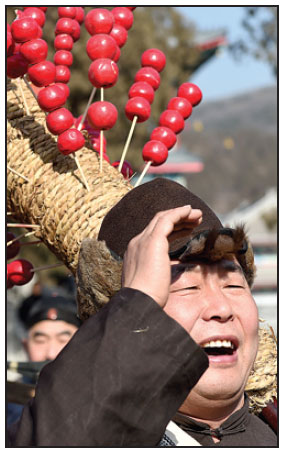 A performer practices crying out his wares as a street vendor at Badachu Park on Feb 9. Lanterns are a signiture feature of the temple fair at Ditan Park. A performer rehearses at Badachu Park in Shijingshan district on Feb 9.Li Jundong , Xinhua, Chen Xiaogen ,For China Daily And Jiang Dong and China Daily
Carnival spirit lights up Beijing during the holiday, as Su Zhou finds out. Su Zhou
Despite more and more young people turning their back on tradition, temple fairs remain a favorite event during Spring Festival.
Zhu Changdui, who works for the Postal Savings Bank of China and comes from Ankang, Shannxi province, said he remembers reading about Spring Festival in Beijing when he was young. He recalls reading of children with red cotton-padded jackets running out the hutong to join the temple fairs and see dragons dancing, martial arts performances and people selling traditional snacks.
"In recent years, Spring Festival has not been like the ones when I was little because of the rapid change in society, especially in my hometown," said the 28-year-old, who added that his relatives like to celebrate the festival by playing mahjong.
"However, I think Beijing has preserved a lot of the old tradition and blended it with the new trends."
This year will be the first time Zhu has stayed in Beijing during Spring Festival since he settled in the capital four years ago. He said he would like to capture as much of the traditional spirit as possible.
"I plan to visit temple fairs and I have a schedule for them. I think my camera will not have a few days off then," Zhu joked.
Temple fairs, or miaohui, are said to hail back to ancient days, when farmers would offer new year sacrifices to their village gods. The events developed into marketplaces for goods and ideas, where people would peddle their wares and performers would put on shows.
Temple fairs grew in prominence throughout the Ming and Qing dynasties (1368-1911), but essentially evaporated with the founding of New China in 1949, and they were taboo during the "cultural revolution" (1966-76).
The country's first official temple fair after 1949 was in 1985 at Beijing's Temple of the Earth (Ditan Park). Now they are once again an important part of the Spring Festival and they continue to evolve.
The carnivals in parks such as Ditan, Tiantan and others with a long history largely remain true to tradition, and they evoke imperial times and folk memories.
This year marks the 11th Cultural Week for Tiantan Park, or the Temple of Heaven. Between Feb 19 and 23, performers will act as emperors, guards, officials, dancers and musicians and show visitors the solemn ancient worship ceremonies.
As Beijing is a second home for many expats, other fairs have departed from historical orthodoxy, particularly in recent years.
In Shijingshan Amusement Park, the organizers are hosting a "foreign-style" temple fair, which will include Western as well as traditional cultural elements. Organizers said the fair will be similar to a foreign carnival parade and will include a four-dimensional cinema alongside other events.
Performances such as Japanese fan dances, a Korean long-drum dance, Latin dance, a Russian song and dance performance, a cartoon show and children's activities will also feature.
"Spring Festival used to be a favorite time for children. We posted handwritten couplets on both sides of the door, paper-cuttings with traditional images on the window and we set off firecrackers, put on new clothes and went to temple fairs where there were all kinds of toys and snacks," said Yu Dawu, a 66-year-old painter, who recently published a picture book called Spring Festival in Beijing for children to see how people used to celebrate Chinese New Year.
Although the festival celebrations in Beijing are not as lively as they used to be, Yu said he believed the holiday's core concept hasn't changed. "Family reunions and the earnest hope for a better life in the coming year remain the same," he said.
To avoid potential risks, the Beijing tourism authority has enhanced its traffic monitoring system and ordered no free gifts to be handed over during the temple fairs.
According to the authority, the number of tourists in Beijing during Spring Festival will soar and the range of celebrations mean there are a lot of potential risks to manage.
Wang Yanyong, director of the Tourism Development and Planning Research Center of Beijing Jiaotong University, said temple fairs should connect more with current trends instead of repeating old traditions.
"Different years should have different themes and they should combine with the current entertainment trends," said Wang. "More high-tech elements should be integrated into the design of tourism products."
"Temple fairs are just like the dumplings we eat every Spring Festival Eve, they may be old and unchanged symbols of Chinese New Year, but there is still space for innovation."
Contact the writer at suzhou@chinadaily.com.cn