Hong Kong still popular with mainland students
Protests unlikely to affect university admissions as thousands continue to apply for places
Although the "Occupy Central" campaign seriously affected daily life in Hong Kong for more than two months, it has not dampened mainland students' enthusiasm to study in Hong Kong universities.
Xu Zijian, a college senior from Guangzhou, Guangdong province, is anxiously waiting for offers from Hong Kong universities.
The 22-year-old has applied to master's degree programs and hopes to start in September.
"Compared with master's programs on the mainland, Hong Kong's are more cost effective, and they take only one to one and a half years to complete. I can get out of school and join the workforce sooner," Xu said, adding that the study experience in Hong Kong may lead to more job opportunities, in both Hong Kong and on the mainland.
Xu is one of thousands of mainland students who have set their sights on Hong Kong universities.
In 2004, then education minister Zhou Ji and Arthur Li, then secretary of the Hong Kong Education and Manpower Bureau, signed an agreement that the mainland and the special administrative region would recognize each other's higher education degrees. Since then, the number of mainland students going to Hong Kong has increased dramatically.
Since China regained sovereignty over Hong Kong nearly two decades ago, tourism, commerce and educational exchanges have grown exponentially.
An increasing number of mainland residents, including tourists and students, have flocked to Hong Kong to benefit from its resources.
"I can speak Cantonese, which greatly reduces the gap between me and the local students. ... Though their (native Hong Kong university students') thoughts on some topics differed from ours, it's OK to stay away from the sensitive topics," he said.
The recent protests are unlikely to affect mainland students' admissions in Hong Kong.
The leaders of several Hong Kong universities said at a Shanghai news conference that the "Occupy Central" movement has not affected mainland students' lives or studies, China News Service reported in December.
The 2015 enrollment plan will be the same as that of the previous year, including mainland student enrollment numbers, tuition fees and scholarships.
Last year, eight government-funded Hong Kong universities admitted 1,588 undergraduate students from the mainland, almost the same number as in 2013.
Hao Lirong, a senior consultant at overseas study consultancy Chivast Education International who specializes in Hong Kong, estimated that Hong Kong universities admit about 6,000 mainland students each year.
"About half were undergraduates after 2012," Hao said. "Before, mainland graduate students outnumbered the undergraduates."
Some students asked whether the recent movement would affect their admission, but she does not see any interference.
"Academia is academia and politics are politics," Hao said.
He Chugang, southern China region general manager at Amber Education, a Hong Kong-based education counseling firm, had a similar view.
He expected the admission plans of Hong Kong universities to remain the same.
"There will be no discrimination against students from the mainland during admission," he said.
However, as a professional involved in Hong Kong education for nearly eight years, he has witnessed some long-term obstacles from mainland students.
"Hong Kong adopts many teaching systems in its higher education, including that of the mainland, the UK and the US. Not every student can handle the diversity. Some students are just not used to the system," said He, adding that for Mandarin-speaking mainlanders, language is also an obstacle.
"Cantonese is the main language. Some professors even lecture in Cantonese. In daily life, Cantonese is almost a must when students go grocery shopping or rent an apartment, " he said, adding that the lack of Cantonese skills may create some problems in daily life.
Student Xu found mastering Cantonese is a plus for him to get employed in Hong Kong after graduation.
"Some companies require that employees are able to speak Cantonese," Xu said.
luowangshu@chinadaily.com.cn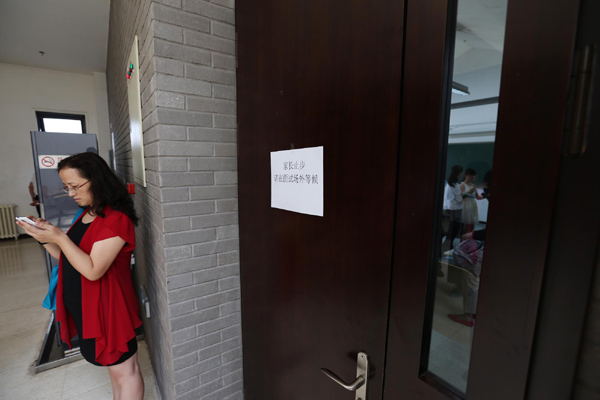 A parent waits outside a room at Peking University, where the University of Hong Kong interviewed mainland students in June for undergraduate admission. Lin Hui / for China Daily