Chicago Auto Show revs up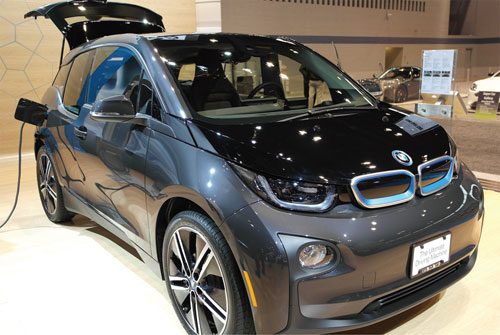 BMW i3, on display at the Chicago Auto Show, was introduced in the US last year as an all-electric 2015. Jian Ping / for China Daily
Despite frigid temperatures, crowds of people from the Windy City area filed into the Chicago Auto Show at the McCormick Center early Saturday morning.
More than 1,000 vehicles from a variety of manufacturers sparkled under the million square feet of brightly lit displays, vying for the attention of fans and potential buyers alike.
"The Chicago Auto Show provides automakers the opportunity to shake hands with hundreds of thousands of their customers on a personal level," said John Webb, 2015 Chicago Auto Show chairman.
A number of models are making their world debut here, including the Chevrolet Equinox, the Acura RDX, Honda Pilot, Mitsubishi's midsize plug-in SUV concept and many more.
There are three indoor test tracks and six outdoor ride and drive trials that draw long lines of people, especially the Jeep track that gives riders the thrill of climbing up a steep slope and running tilted to one side or over logs and rocks, a simulation of rough mountain conditions.
Quite a few manufacturers have plug-in or even all-electric cars on display.
BMW is exhibiting its all-new i3 electric car, which was introduced in the US market last year as a 2015 model.
Beemer is also showing off a plug-in hybrid, the i8, which combines the power of a turbo engine and the efficiency of an all-electric motor. "Featuring swan-wing doors, a shark-nose front end, and a supercar stance, the i8 plug-in hybrid is BMW's most revolutionary car in decades," commented Car & Driver magazine.
Volvo, among other models, is showcasing its V60 Cross Country and XC90 series for the first time in Chicago.
"The XC 90 has three rows [of seats]. It's the world's first seven-passenger plug-in hybrid SUV," Volvo spokesman Russell Datz told China Daily.
Datz said that with US regulations raising the standards for corporate average economy and requiring automakers to increase the average fuel efficiency of new cars and trucks to 54.5 miles per gallon by 2025, automakers, including Volvo, are exploring ways to improve fuel efficiency.
Asked about parts and vehicles made in China, Datz pointed to a grey S60 on display, saying the model was assembled in a plant in Chengdu, China and will be the first Volvo vehicle to be imported to the US from China later this year.
"It's a fully 'federalized' car from China," Datz said, explaining that the vehicle not only meets all Volvo safety and quality standards, it meets and exceeds US federal regulations.
Volvo Car Corporation was sold to Ford Motor Company in 2000, and in 2010, China's Zhejiang Geely Holding Group purchased it from Ford.
"The company has been re-energized with much needed new resources with the purchase," said Datz.
As a result, he added, "Volvo will launch seven new products in the next few years."
Webb said the Chicago Auto Show was "unmatched when it comes to consumer attendance, enthusiasm and engagement".