Airline builds a nest in continent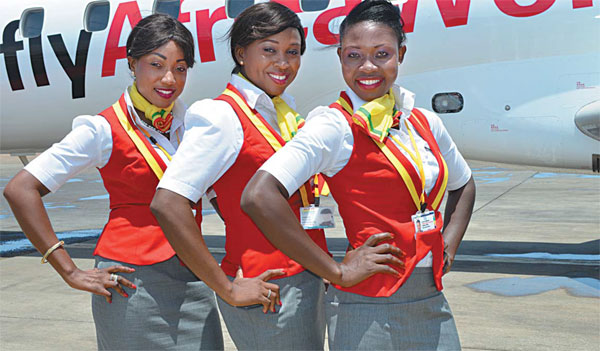 Africa World Airlines, the first Chinese aviation company that has taken root in Africa, aims to cover the West Africa region in one or two years. Provided to China Daily
China-Africa joint venture plans to contract new routes in west Africa this year
As airlines continue to open up more new routes linking China and Africa, one Chinese company has gone one step further, setting up its headquarters in the continent.
Africa World Airlines, set up in 2010, is a joint venture between a Hong Kong-based investment company, which has an 70 percent stake, and SAS Financial Group and Ghana Social Security and National Insurance Trust, which have 20 percent and 10 percent. The investment company in Hong Kong was co-founded by the China-Africa Development Fund, which has a 40 percent stake, and Hainan Airlines, which holds the rest.
Chi Jianxin, chairman of the China-Africa Development Fund, calls it "the first successful case of aviation companies going overseas", because no Chinese aviation company had set up a company in Africa, he says.
Chi says he hopes this investment can further improve the infrastucture and boost the local economy.
A few years ago, the China-Africa Development Fund teamed up with Shenzhen Energy to build a power station in Ghana that provides about 10 percent of the total domestic supply.
He Yali, chief financial officer of AWA and representive officer of the Ghana representative office of the China-Africa Development Fund, and who has lived in Ghana for more than three years, has watched the company since it took off.
The company operates three routes: two domestic and one international. One route links Accra and Kumasi, the other Accra and Tamale, and the third Accra and Nigeria's largest city, Lagos.
Last year AWA had a 28 percent share of the domestic market, the rest shared by two Ghanaian airlines. The company's share in Ghana was 15 percent in 2013.
Generally, African road conditions are poor, and in many sub-Saharan countries there are no proper roads out of capital cities. So intercity travel is heavily dependent on aircraft. It takes more than 12 hours to drive from Accra to Tamale but only one hour to fly.
It is typical in sub-Saharan areas for air transport to have started before ground transport. When a new mineral mine is discovered, one of the priorities is to build an airport so staff and daily necessities can be shipped in. A road might take years to build because of the months-long rainy season and complicated geology and topography.
So the demand for air travel will continue to climb for the foreseeable future, He says, adding that most passengers are Ghanaian businesspeople.
AWA now operates three 50-seat ERJ-145 aircraft and it plans to introduce two 120-seat Airbus 319s this year and another next year to meet growing demand in West Africa. The company says it costs more than $100,000 a month to operate an ERJ 145 including the leasing fee, fuel and maintenance. The company doesn't own any aircraft, but instead they rent them from international aircraft leasing companies.
The company is expanding its business quickly to catch up with demand.
It is currently talking with a major airline on code-sharing on routes between African countries and routes from Africa to North America.
It is also discussing with one of its stakeholders, Hainan Airlines, to share code on European routes. Hainan Airlines is one of China's biggest airlines and has been expanding routes to Europe and Africa in recent years.
Hainan Airlines had flights linking Beijing, Abu-Dhabi and Angola but the flights have been stopped because of a lack of patronage.
Hainan Airlines said in a previous interview that many of its Chinese customers flying to and from Africa work for big enterprises such as Petro China. Over the past few years these companies have needed to send hundreds of staff to Africa who are working on investment or aid projects.
"The short-term goal is to launch more routes in West Africa region," He says. AWA plans to launch seven new routes in West Africa this year.
The company is also in talks with a Ghanaian oil company for a charter agreement, to carry their staff from and to an offshore drilling platform. If completed, the deal could bring in extra cash flow to AWA every year, He says.
Last year, AWA says, it flew 172,700 passengers, 109 percent more than in 2013. It had revenue of above $7 million, 87 percent more than in 2013, and the average flight was 71 percent full.
Nevertheless, the company is running at a loss, He says, but its deficit is shrinking, and it forecasts that it will turn in a profit in 2017.
"Recently, Kumasi has upgraded the airport and now allows for night landings and takeoffs, so passenger loads will likely increase this year."
In the long run, AWA will cover the whole of Africa, and it will set up other headquarters in southern Africa and East Africa in the future, He says.
The aircraft AWA has put into service are newer and have stricter flying rules than the aircraft of local airlines.
For instance, AWA has a requirement for the minimum length of the runway, if the runway is shorter than that, AWA planes will not take off or land on this airport, He says.
A flying surveillance system is also being used. The system will keep a record of the communications and landing data and give warnings whether any mistake is made, for instance, whether the plane is climbing too fast during the takeoff.
The company has 150 staff, only five of whom are Chinese. There are 18 pilots, and as the fleet expands the company plans to recruit more.
Aviation is a capital-intensive industry and He says he relies heavily on local professionals because the accounting system is different to that in China.
"It is not as well developed as China's, so I really need to pay careful attention to things in day-to-day business."
Industry insiders say the investment is regarded as a long-term one rather than a short-term cash generator. Li Lei, an analyst with Citic Securities, says: "Operating an airline in Africa is very costly, and it is hard to gain good returns in a short time. But the major shareholder, Hainan Airlines, can use AWA as a base in Africa and then develop other businesses such as hotels and tourism in the continent, as it has done in Europe.
"This is only the first step of Hainan Airlines' gold rush in Africa."
wangchao@chinadaily.com.cn