ABC debuts funny sitcom featuring Asian-Americans
Diversity on TV takes a step forward with ABC's Fresh Off the Boat, which boosts Asians' scant presence in prime time with a sitcom about an Asian-American family pursuing the American dream while holding onto its own ethnicity.
It previewed on Wednesday night with two episodes.
"This is the story of my family," begins the offscreen, real-life Eddie Huang (on whose memoir the series is based), and you could be forgiven for emitting a weary sigh.
But here's the good news: This is a funny show with likable characters portrayed by a cast of winning actors, all of which gives this Boat sufficient comic buoyancy.
As Louis, Randall Park radiates charm and optimism, even as his counterintuitively themed restaurant - Cattleman's Ranch Steakhouse - is struggling for life.
"I need to hire a white host," he reasons. "Instead of people coming in and seeing a Chinese face and saying, 'Huh? I thought this was an Old West steakhouse,' they see a white face and say, 'Ahhh! Hello, white friend! I am comfortable.'"
Constance Wu plays his supportive but no-nonsense wife, who is full of understandable misgivings about her new home.
For one thing, she misses the boisterous Chinatown marketplace: "This is not how I like to shop," she laments on visiting a modern grocery. "This place looks like a hospital."
And when young Eddie brings home straight A's, his somewhat tigerish mom is far from satisfied. She complains to the school's principal that Eddie's classes are too easy.
As Eddie, newcomer Hudson Yang is adorable, as are Forrest Wheeler and Ian Chen as his younger brothers.
And gap-toothed comedian Paul Scheer is hilarious as Mitch, the restaurant's eager-beaver "white host".
In its pursuit of laughs, the series doesn't shut its eyes to overt prejudice. In the lunchroom, a black classmate of Eddie's pops off with a racial slur, an outburst that leaves everyone who hears him dumbstruck.
What comes next is reported by the principal to Eddie's parents after they are summoned to his office: The usually easygoing Eddie delivered a kick to the groin followed up with "some words that I never heard before", the principal says. "And I grew up in Boston."
But more typically, the cultural clash is bridged with goodwill and give-and-take. After all, Louis has cast his lot with Old West cuisine, and young Eddie describes his overall mission this way: "Get a seat at the table. Meet Shaq. Change the game."
In an ideal world, the arrival of Fresh Off the Boat would be judged purely on its merits, not as a much-belated breakthrough in TV diversity. But the fact is, Asian-Americans, who make up 5.3 percent of the US population, found their representation on prime-time scripted shows last fall to be half that figure on ABC, NBC and Fox (CBS matched the census figure).
More to the point: Boat is the first comedy centered on an Asian family since Margaret Cho's All-American Girl aired during the 1994-95 season.
A sitcom is typically held to no higher standard than to keep its audience amused. But hopes for Boat are inevitably higher (as are its potential rewards): to help normalize the presence of Asians on TV and help declare their place in the American mainstream.
Yes, the show comes with a message, expressed by narrator Huang: "You don't have to pretend to be someone else in order to belong."
In the process, it also happens to be funny.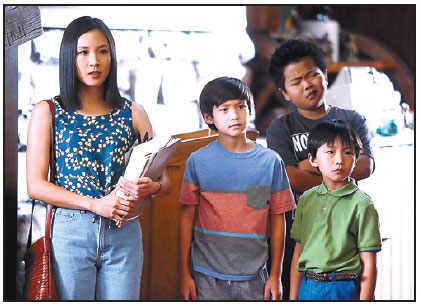 Constance Wu, Forrest Wheeler, Hudson Yang and Ian Chen appear in a scene from the new comedy series Fresh Off the Boat that previewed on ABC. Associated Press