Top-level lab gears up to study Ebola virus
China's first laboratory to study highly contagious and fatal diseases has been inaugurated in Wuhan, capital of Hubei province, and will enable scientists to research live Ebola viruses.
On Saturday, the National Health and Family Planning Commission and the Chinese Academy of Sciences held a ceremony to mark the completion of the National Biosafety Laboratory - the country's first biosafety level-4 laboratory, also known as a P4 laboratory.
The facility, designed with the highest-level biosafety standards, is an essential platform for research and development against highly contagious and infectious diseases such as Ebola.
"The laboratory filled the domestic void, provided conditions for research on the Ebola virus and brought our fight against the virus from Africa to domestic laboratories," said Li Bin, minister of the National Health and Family Planning Commission.
"Without a biosafety level-4 laboratory, we have no chance to experiment with live viruses or to test viruses on animals, despite the fact that we have been researching diagnosis techniques and therapies for Ebola for eight years using individual genes or proteins," said Yuan Zhiming, director of the Wuhan P4 Laboratory.
Ten national-level research institutes in China have carried out studies on Ebola diagnosis techniques with a view to developing diagnostic reagents and a vaccine, the National Health and Family Planning Commission said at an earlier news conference.
The central government approved the P4 laboratory in 2003 after the SARS outbreak.
In October 2004, China signed a cooperation agreement on the prevention and control of emerging infectious diseases with France, which was followed by a succession of supplementary agreements.
With French assistance in laboratory design, establishing biosafety standards and personnel training, construction started in 2011 and lasted for three years.
"The brand new lab in Wuhan, as one of the country's large-scale science facilities, will play an important role in our public health defense system, and will be an indispensable technology platform for the global prevention and control of infectious diseases," said Bai Chunli, president of the Chinese Academy of Sciences.
Bai said a number of research teams from China and France have cooperated on studies into Ebola, the Marburg virus and HIV, which has laid a solid foundation for further cooperation.
The lab will be put into service after a trial operation, and will be open to scientists around the world.
Alain Merieux, president of Foundation Merieux, a public health foundation, said the joint P4 program has not only vividly embodied the depth and strength of the ties between France and China, but also the responsibility to the world community.
"Globalization has cast tremendous pressure on prevention and control of emerging and re-emerging diseases. Thus a united world society is a must to win over the challenge to public health and sustained development of human beings.
"By helping Chinese colleagues with the world class designing, and architecture technology, of biocontainment facilities, France has expanded its front line of disease prevention and control," he said.
chengyingqi@chinadaily.com.cn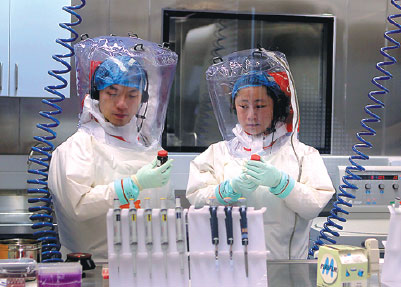 Researchers work on a test in China's first laboratory to study highly contagious and fatal diseases. The country's first biosafety level-4 laboratory was inaugurated in Wuhan, capital of Hubei province, on Saturday and will enable scientists to research live Ebola viruses. Zou Hong / China Daily