Dad's call shook Sharapova
One phone call was all it took for Maria Sharapova to shake off whatever it was that almost ended her Australian Open.
That call came early on in the tournament when the No 2-ranked player came very, very close to losing in the second round to a low-ranked qualifier.
That was a bad day - she made 51 unforced errors, faced match point twice and clawed her way back to win.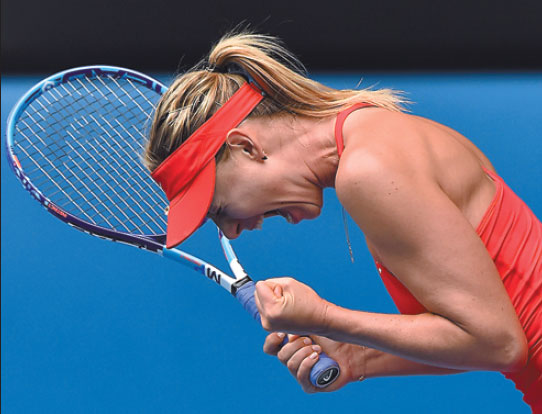 Russia's Maria Sharapova celebrates her quarterfinal victory over Canada's Eugenie Bouchard on Tuesday. Paul Crock / AFP
And then her dad called.
"I don't want to face that phone call with my father too many times during a tournament," Sharapova said on Tuesday after a very different sort of match.
The five-time Grand Slam winner moved one step closer to another Australian title, defeating 20-year-old Canadian Eugenie Bouchard 6-3, 6-2 in the quarterfinals, making all the big points look easy.
The win sets up an all-Russian semifinal against No 10 Ekaterina Makarova.
Asked exactly what her father, Yuri - who taught her to play the game and had coached her for many years - had said, Sharapova chuckled and gave what she called the "nice version."
"It was like, 'This is unacceptable,'" she said, smiling and then added that she prefers direct criticism to a glossed-over pep talk.
"I like real people and honesty," said the 27-year-old player who is Russian but moved to the US at the age of 9 to train at the famed Nick Bollettieri tennis academy in Florida.
"I don't need people telling me, 'You're great, you'll improve in the next one.' If you played a terrible match, you played a terrible match," Sharapova said.
"Go out there and change whatever it takes to turn things around."
During the first week in Melbourne, Sharapova has talked about how much she loves tennis, and competition and pushing her limits, and the power she feels when she steps onto the tennis court and the feeling of wanting to win.
It's been awhile since Sharapova won the Australian Open, and that is something she desperately wants to change.
Sharapova, the 2008 Australian Open champion and a two-time finalist, has a 5-0 record against Makarova, her semifinal opponent, including wins in the quarterfinals here in 2012 and 2013.
In four of those losses, Makarova has failed to win a set.
"It's certainly nice to know that one of us and a Russian will be in the final representing the country here," said Sharapova, who also said that when she plays another Russian she tries not to think about it. "At the end of the day, both of us are trying to win that last point."
The 26-year-old Makarova said she expected a tough match.
"I have never beat her, so it will be tough," Makarova said. "Definitely she's a great fighter."