UN: Boko Haram must end conflict
Security Council makes position clear ahead of key African regional leaders meet
The UN Security Council issued its first formal reaction on Monday to the threat posed by Boko Haram, urging the Nigerian militants to "disarm and demobilize".
The 13-point statement, approved by all its members, condemned the group's attacks, in particular those involving children used as suicide bombers, and called for an end to the violence.
"The Security Council demands that Boko Haram immediately and unequivocally cease all hostilities and all abuses of human rights and violations of international humanitarian law and disarm and demobilize," it said.
The statement, released ahead of a meeting in Niger between regional leaders, also urged African countries to expedite plans for a multinational force to fight the group.
The multinational force has been under discussion since last year, but divisions over the scale and scope of its operations have slowed down the deployment.
The council's statement comes after Boko Haram fighters seized scores of hostages in a raid in Cameroon on Sunday.
About two dozen hostages were later released, but the attack has compounded fears the group is ramping up operations beyond Nigeria's borders.
It also follows Boko Haram's suicide bombing on Jan 10 at a market in Borno state, during which a 10-year-old girl was used to detonate a bomb, as well as attacks in Baga that resulted in the "massive destruction of civilian homes and significant civilian casualties".
Previous Security Council statements condemned specific attacks but this statement accuses the militants of kidnappings, killings, hostage-taking, pillaging, rape, sexual slavery and the recruitment of child soldiers since they started their campaign in 2009.
Diplomats said the statement pointed to a shift in Nigeria, which has shied away from discussing Boko Haram even though it is one of the 10 non-permanent members of the Security Council.
The council emphasized Boko Haram's regional impact by expressing serious concern over the large scale civilian displacement of Nigerians who have escaped to Cameroon, Chad and Niger.
The UN said the surge in violence caused by Boko Haram has unleashed a wave of fear across Nigeria.
In northern Nigeria alone, over 900,000 people, many of them women and children, have fled their homes.
More than 300 schools have been severely damaged or destroyed and hundreds of children have been killed, injured or abducted from their homes and schools.
AP - AFP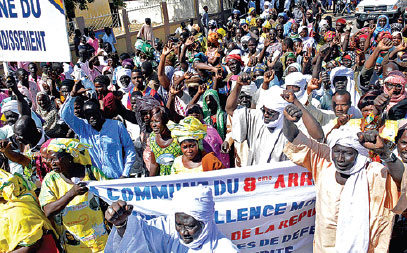 People march during a rally in N'Djamena, Chad, on Sunday to show their support of the authorities' decision to send troops to fight Nigeria's Boko Haram Islamists. Agence France-Presse