BRICS nations will face troubled economies: expert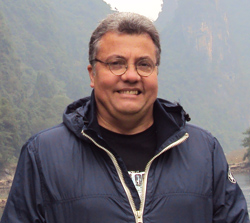 Ronnie Lins, who focuses on Brazil's financial sector, is an international affairs expert at the Getulio Vargas Foundation College in Brazil. JI YE / XINHUA
The BRICS bloc, formed by Brazil, Russia, India, China and South Africa, five of the world's largest emerging economies, will have the opportunity this year to show how they can work together to get beyond unfavorable economic conditions within the group, according to an expert.
"Brazil and Russia are the main problem, as they are not managing to achieve the economic growth expected for this group," said
Ronnie Lins, a researcher for the Getulio Vargas Foundation (FGV), one of the most respected economic higher-education institutions in Brazil and an important policymaking think tank in the country.
Lins noted in an interview with China Daily the significant problems Russia is dealing with: sanctions applied to the country because of the Ukrainian crisis and the sharp fall in oil prices.
Brazil, which is also an oil producer and likely to suffer because of low oil prices, is expected to have a low GDP growth in 2015. The country had two consecutive quarters of negative growth in 2014 and went into a technical recession. It managed to leave the recession in the third quarter.
Lins said that the main concern of the Brazilian government's economic team is to regain fiscal balance, which means investments and bold moves are unlikely to be priorities.
As for India and South Africa, Lins said they will continue on a path of moderate economic policies, and are unlikely to negatively affect BRICS' growth as a whole this year.
China, the largest economy in the bloc, is expected to register a lower GDP growth rate this year, far from the two-digit growth rates of the past, which is sure to have an impact on BRICS' growth figures, he said.
"China is expected to have around 7 percent of GDP growth, due to the Chinese authorities' efforts to solve some unbalances generated in the economy in the past few years, such as overheating in real estate market investments, inner reforms for the country to achieve its goals and the international crisis, which has had an impact on the growth of its exports," Lins said.
However, it's not all bad news for China and Brazil, Lins said, expressing confidence that China will continue to be Brazil's most important trade partner in 2015, as it has been since 2009, when it surpassed the United States.
China's prominence will continue, he said, despite the expected recovery of the US economy this year, and the increasingly closer relationships between Brazil and Japan and the European Union.
Lins said China should concentrate its investments in Brazil on infrastructure, which he said is facing difficulties in the country, but also is very important for its development.
"However, one must be careful with local partners right now, as there is a large ongoing anti-corruption action hitting Brazil's largest construction companies," Lins said, referring to Federal Police investigations that uncovered a bribery involving executives of Brazil's state-controlled oil and gas giant Petrobras and construction companies, which had contracts with Petrobras.
The Brazil-China partnership is expected to be strengthened this year, Lins stressed. In addition, the presence of both countries in larger blocs helps boost those ties.
"Some things help strengthen this partnership even more, such as the BRICS group and the recent China-CELAC Forum," Lins said.
The Forum is a most important aspect, Lins believes. Founded last year, it aims to strengthen China's ties with Latin American and Caribbean countries, regions where China's influence is increasing.
"The Forum's creation was an important step toward reinforcing dialogue and cooperation between Latin American and Caribbean nations and China," Lins said.
The FGV researcher also believes that the China-CELAC Forum will be important to both regions because it is likely to help boost their collective voice on decision-making in multilateral organizations.
The first ministerial meeting of the China-CELAC Forum took place earlier this month in Beijing, and was widely regarded as very successful. In the meeting's opening speech on Jan 8, Chinese President Xi Jinping called the event as "a new beginning and new opportunity" for all parties.