New Charlie Hebdo issue sells out fast around France
2 million more copies planned; publication of latest page 1 cartoon criticized by Iran, IS
The first edition of Charlie Hebdo to be published after the deadly attacks by Islamist gunmen sold out within minutes at newspaper kiosks around France on Wednesday, with people lining up to buy copies to support the satirical weekly.
The weekly will print 5 million copies of this week's issue to meet the overwhelming demand, the distributors said.
"The editor decided this morning to increase the print run to 5 million," said Veronique Faujour, head of the press distribution firm MLP.
That is 2 million more copies than initially planned in the wake of the jihadist attack that decimated the weekly's staff on Jan 7.
"I've never bought it before, it's not quite my political stripes, but it's important for me to buy it today and support freedom of expression," said David Sullo, standing at the end of a line of two dozen people at a kiosk in central Paris.
A print run of up to 3 million copies was set for what has been called "the survivors' edition", dwarfing the usual 60,000 run. Yet many outlets were selling out fast.
"It's important for me to buy it and show solidarity by doing so, and not only by marching," said a 42-year old in the same line, adding he had no guarantee he would get a copy because he had not reserved one the day before.
A few blocks away, near the Jules Joffrin metro station in northern Paris, one newspaper seller said people were already waiting outside her shop when she opened at 6 am. "I had 10 copies - they were sold immediately," she said.
Iran condemned the publication of the new cartoon of the Prophet Muhammad by the French weekly on Wednesday, saying it was "insulting" and "provocative".
The front page cover "provokes the emotions of Muslims and hurts their feelings around the world, and could fan the flame of a vicious circle of extremism," said Iranian Foreign Ministry spokeswoman Marzieh Afkham.
Iran has strongly condemned last week's deadly assault on the weekly's Paris offices by Islamic extremists who killed 12 people. Afkham said the attack was against Islam's teachings.
The Islamic State group's radio described the new cartoon as an "extremely stupid" act on Wednesday.
"Charlie Hebdo has again published cartoons insulting the Prophet, and this is an extremely stupid act," said a statement read on Al-Bayan radio, which the jihadist group broadcasts in areas under its control in Syria and Iraq.
US Secretary of State John Kerry will meet with French President Francois Hollande on Friday morning to discuss last week's attacks.
AP - AFP - Reuters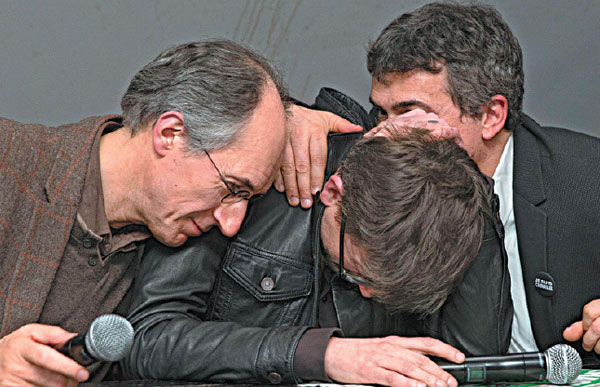 Satirical French magazine Charlie Hebdo's new editor-in-chief Gerard Briard (left) and columnist Patrick Pelloux comfort cartoonist Luz (center) during a news conference at the French newspaper Liberation offices in Paris, on Tuesday Philippe Wojazer / Reuters